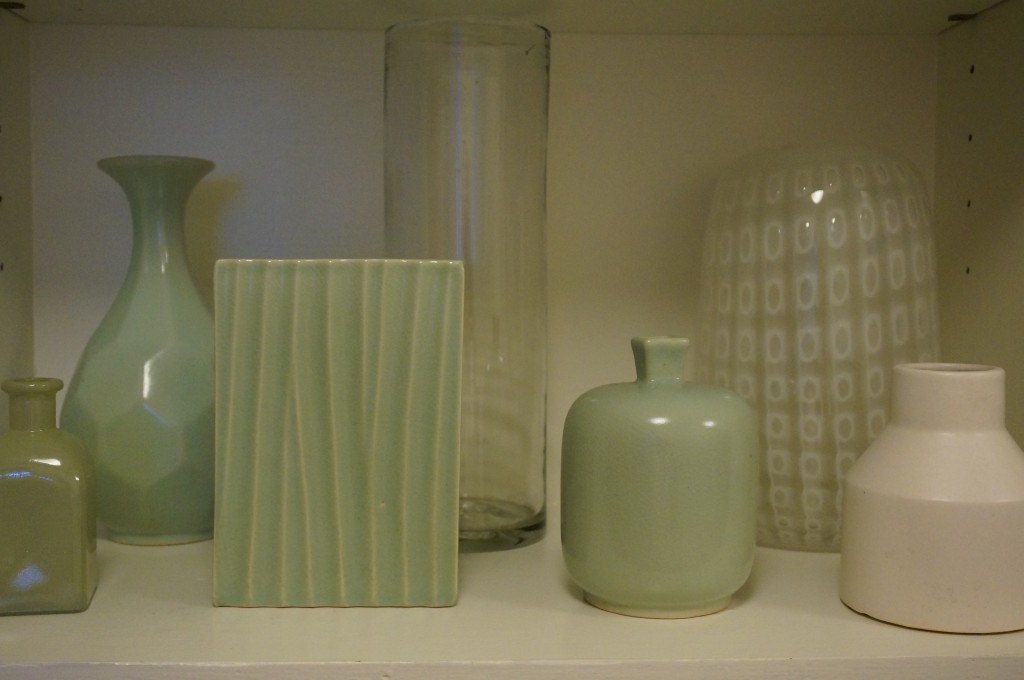 This past month I've been playing a complicated game of hide & seek hoping to find just the thing I needed without unearthing too many other objects that would make the hunt harder. With each passing week more things have found like things and I can now go to the closet where I stashed pillows and blankets or the cupboard that houses red wine vinegar and soy sauce and find guest bedding or marinade makings. Some of the open shelves–like these at the entrance to the laundry area–are filled with artfully arranged objects.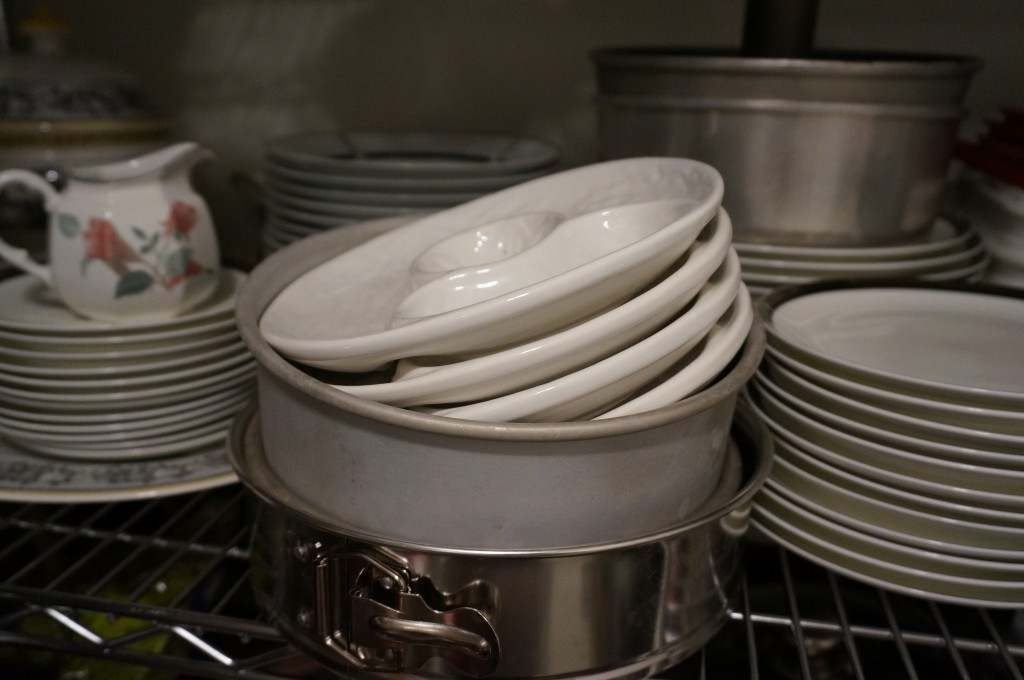 Others, like these utility shelves off the laundry room, still need a little work. This weekend we unloaded boxes of kitchen and craft supplies onto these sturdy Uline shelves. Here's what they looked like before we unloaded the boxes.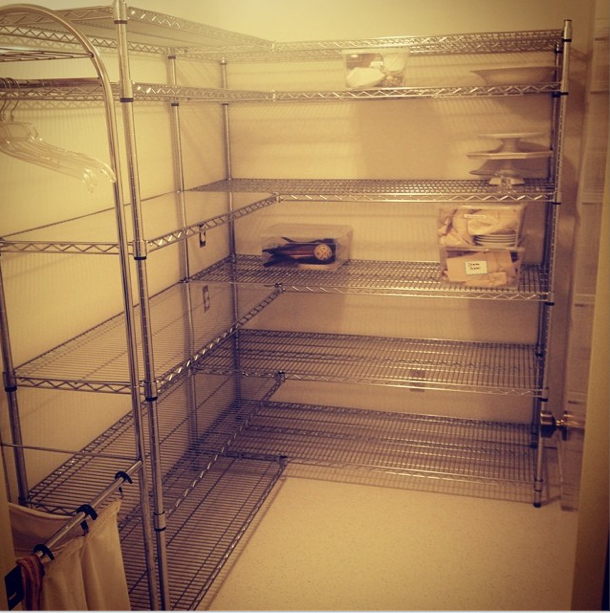 Here's what they look like now.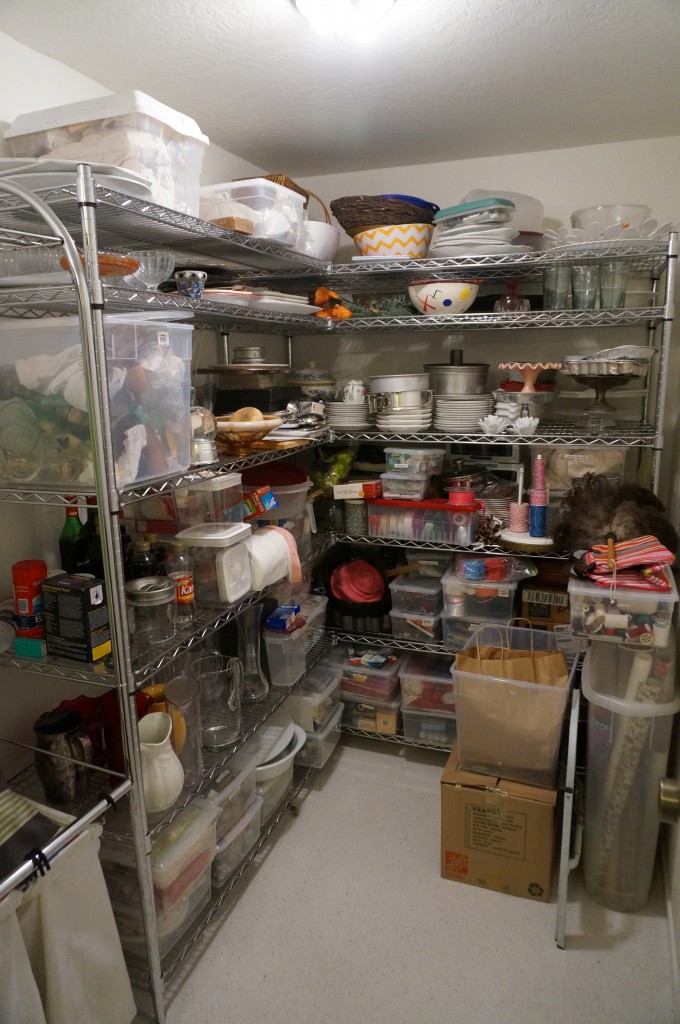 It will take a few days to gather the fine china into a corner, cake pans into another, spools of wrapping ribbons onto one end of a shelf and jamming jars onto another, but at least I know these second-tier essentials all have an accessible home.  I'm almost the master of my little domestic universe and that feels So Good.
One thing that's become clear in all the sorting is how vertical and varied this house is.  It tumbles down the hillside so gracefully that at first you don't realize how much elevation you're covering as you move from one level to another. Then, at the end of a long day of unpacking, you understand why you feel like you've hiked a mountain or two when you collapse into bed.  In describing the house we say there are three levels—the master bedroom on top, the public rooms in the middle and the guest bedrooms below—but there are actually six levels that we use every day.  Along with the main three there are the street entry level, the laundry/storage level and the large storage room/crawl space on the way to the guest bedrooms.
Then there are the many decks—one at the front entrance, two off the kitchen/dining room, one off the guest room/office, and three others before you make your way down to the back garden.  Entering from the back and taking in all the decks surrounding the central redwood tree you might think you'd stumbled onto the Swiss Family Treehouse North. (Really, we need a rope bridge or two and we'd be set to charge admission.)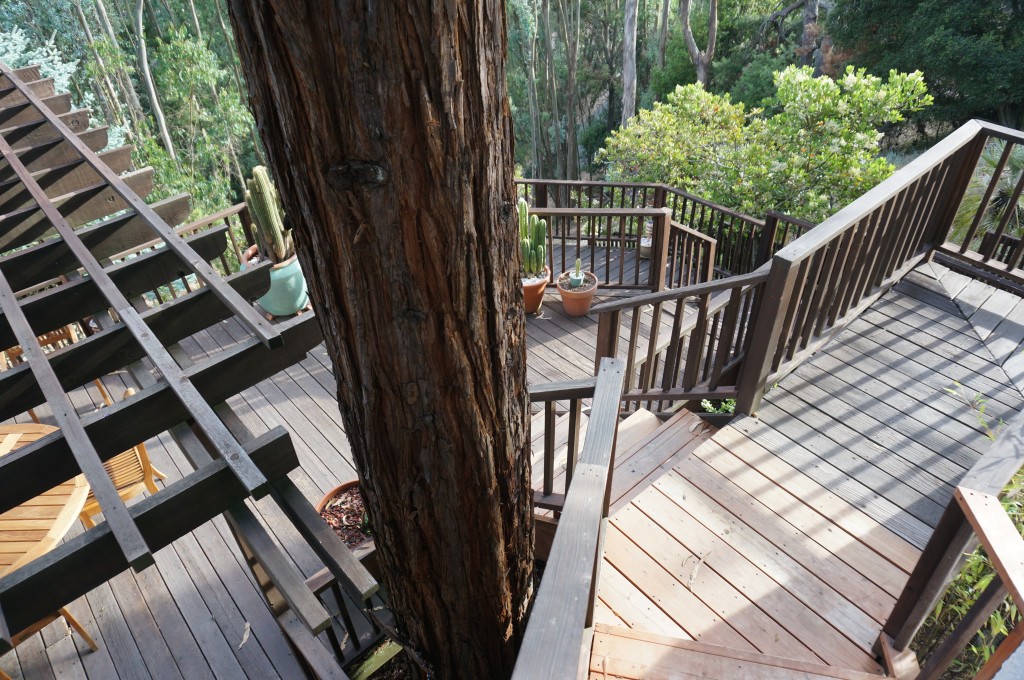 For a relatively small house (2200 sf), it's a lot to decipher. Given all these different, modest spaces, I've been spending a lot of time thinking about what things should stay and what should go.  For the interiors, that's meant some serious editing–furniture and rugs that don't work with the style or scale of the house have been relegated to the garage and I've been judicious about what new pieces are allowed in.  The style differences aren't so pronounced outside so for the decks I've been able to use a mix of refurbished and new furniture supplemented with old and new pots and plantings. (In case you haven't noticed, July is a great month to pick up deals on outdoor furniture and accessories as stores make way for fall merchandise.) For example, here's how the two decks off the kitchen are shaping up. The southwest deck showcases all new furniture and pots from West Elm–a good resource for this modern house.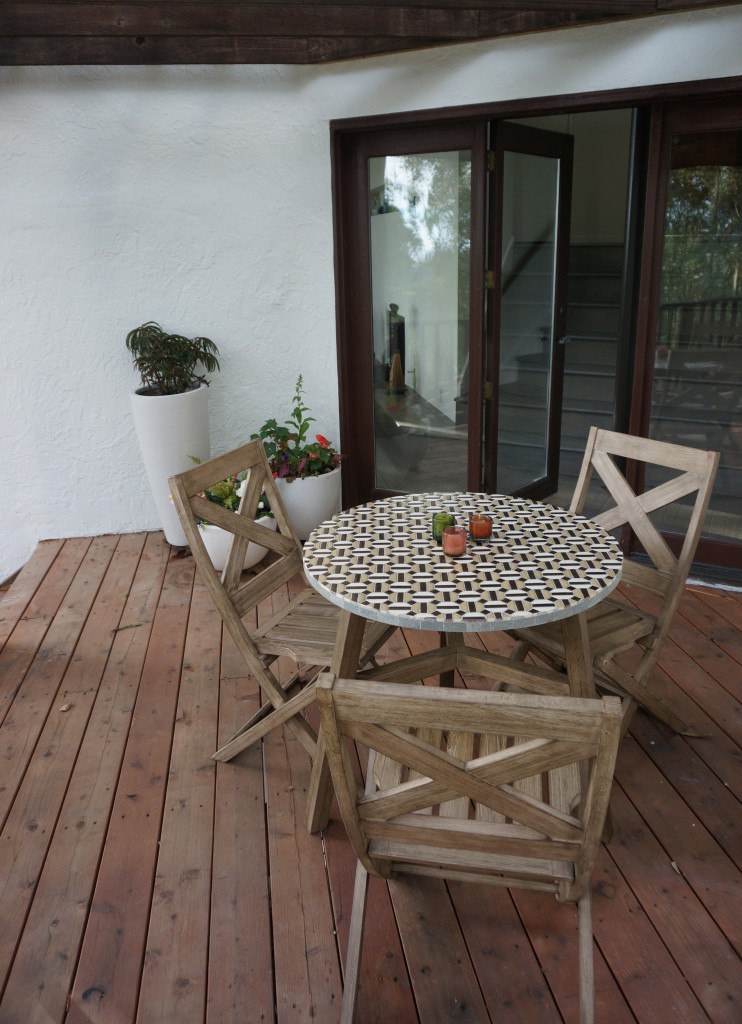 The east-facing deck is anchored by two old Adirondacks from the now defunct Smith & Hawken outlet in Berkeley. We painted the chairs the same grey that we used for the living room bookshelf and added two more West Elm clearance pots to hold shade tolerant plants. These two decks were recently rebuilt to put the house on the market and we're expecting the wood to darken up within the year.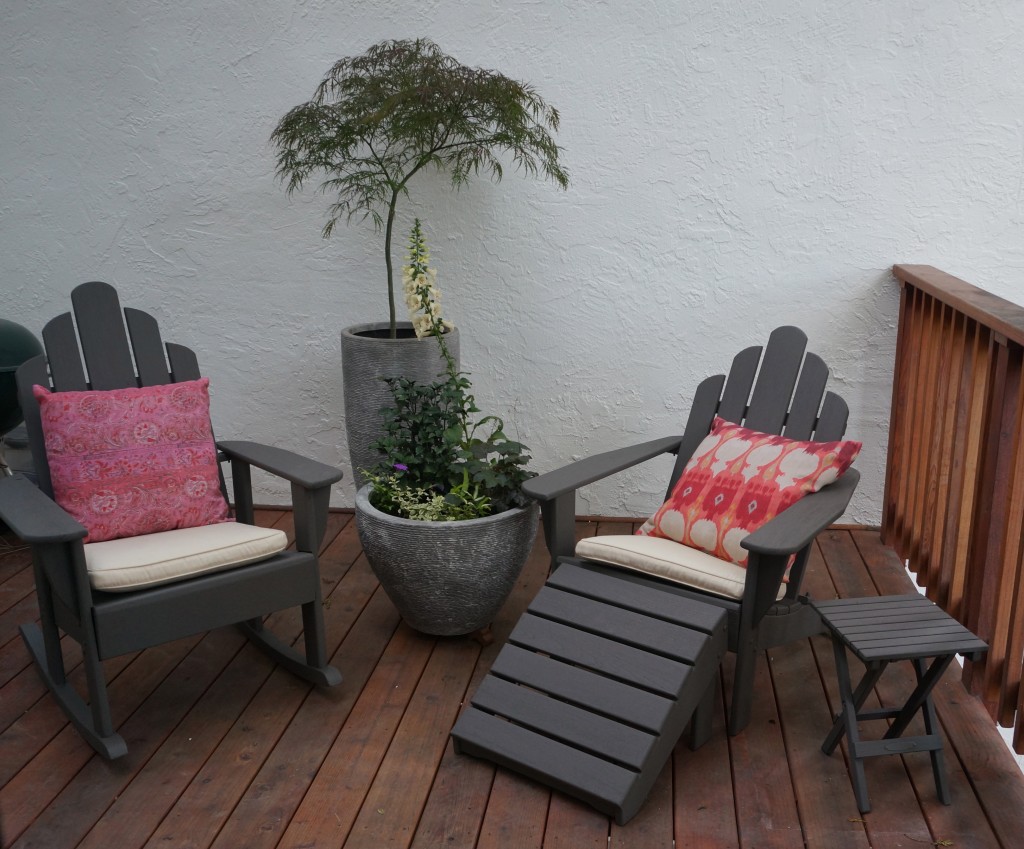 I love how these little seating areas visually extend the interior spaces. Even if we don't spend much time resting from our unpacking adventures—it's mentally refreshing to see that we could.  This is all by way of saying Home Making can be challenging—at least when you're getting to know a place–so it's good to pace yourself and provide some rest stops along the way.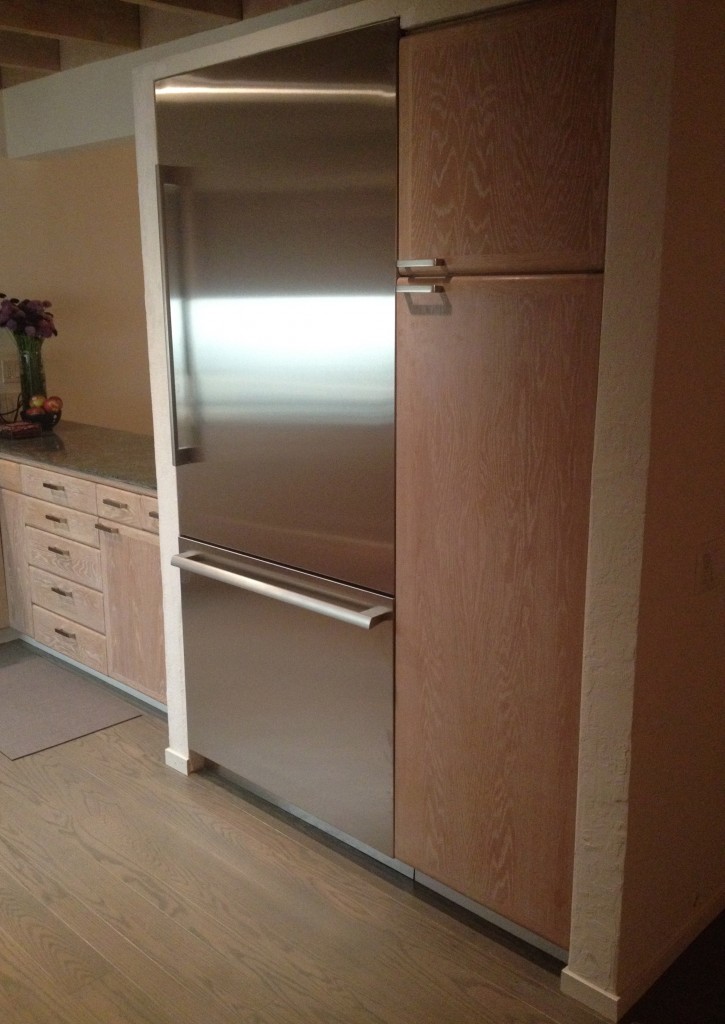 Oh—and yes, the refrigerator was finally installed.  It's so beautiful it makes me almost forget the hassle it took to get it up and running. Even without any rope bridges to navigate.