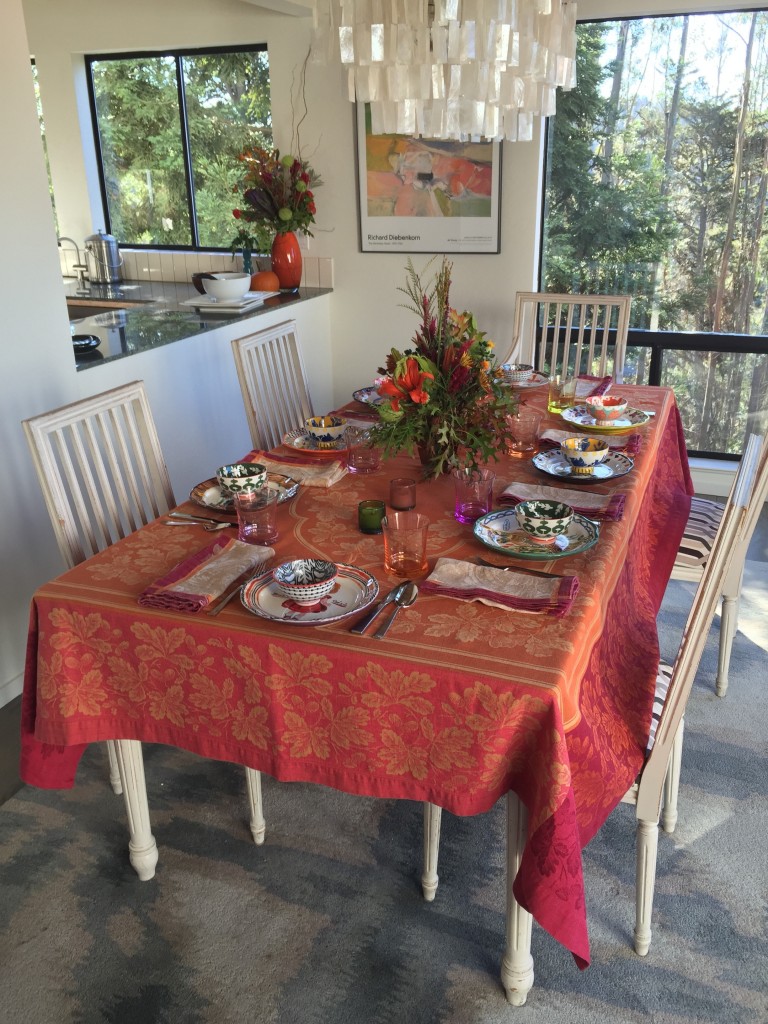 More garden descriptions and photos soon but in the meantime, as promised, here are recipes and links to my Autumn Dinner Party.  It relies heavily on Ina Garten recipes because they're reliable, easy to execute and crowdpleasers.  In fact, I received several requests for recipes after the party and one of our guests deemed the baked beans the best she'd ever had.
For an easy appetizer I did some radish toasts—an idea I picked up from an old Jaques Pepin cookbook.  Slice baguettes thinly, slather with good butter, top with thinly sliced radishes and sprinkle with good salt.  Easy peasy.
The main menu featured:
Butternut Squash and Apple Soup from "The Barefoot Contessa Parties!"
Slow-Roasted-Spiced Pork from Ina Garten "Make It Ahead."
Maple Baked Beans from "The Barefoot Contessa At Home."
Winter Slaw featuring kale, brussel sprouts and dried cranberries—also from Make it Ahead.
Sour Cream Cornbread—another Make It Ahead recipe (Ina really outdid herself with that cookbook. I've used it extensively especially when I have family in town and want to prep things in advance.)
Dessert was a pumpkin cheesecake that I've made for years. It comes from "California Fresh" a cookbook compiled published by the Junior League of Oakland-East Bay in 1985.  Good recipes never go out of fashion.
Pumpkin Cheesecake
Karen Shapiro, La Viennese Pastires, Oakland
CRUST:
3/4 cup graham cracker crumbs (about 12 single crackers)
1/2 cup ground pecans
1/4 cup brown sugar
1/4 cup granulated sugar
1/4 cup butter, melted
FILLING:
3/4 cup granulated sugar
3/4 cup pumpkin puree
3 egg yolks
1 1/2 teaspoons ground cinnamon
1/2 teaspoon ground mace
1/2 teaspoon ground ginger
1/2 teaspoon salt
1 1/2 pounds natural cream cheese, softened
6 tablespoons granulated sugar
1 egg plus 1 yolk
2 tablespoons whipping cream
1 tablespoon sifted cornstarch
1/2 teaspoon vanilla extract 1/2 teaspoon lemon extract
Whipped cream and whole pecans for garnish
To prepare Crust: Combine all ingredients and mix well, coating crumbs completely with butter.  Pat crumb mixture firmly onto bottom of a 9-inch springform pan.  Place in freezer while preparing filling.
Preheat oven to 350 degrees.
To prepare Filling: Mix 3/4 cup sugar, pumpkin puree, 3 egg yolks, cinnamon, mace, ginger, and salt in a bowl.  Set aside.  With an electric mixer, beat cream cheese and 6 tablespoons sugar until smooth.  Add the egg plus 1 yolk and the whipping cream.  Mix again until smooth.  Add cornstarch and blend well. Add vanilla and lemon extracts.  Mix again until very smooth.  Add spiced pumpkin puree to the cream cheese mixture.  Mix until no traces of white remain. (The smooth texture of this cheesecake depends on thorough mixing.)
Pour filling over crumb mixture in springform pan.  Bake 45 minutes, or until sides have risen.  The center will still be somewhat soft.  Remove from oven.  Cool to room temperature, then refrigerate until thoroughly chilled.  Run a knife around the edge of the pan and release the sides.  Remove cheesecake from pan bottom.
Garnish with whipped cream rosettes and whole pecans.