Ever since I was a little girl pouring over the Sears catalog* to order school clothes I've loved the idea of creating a wardrobe from scratch.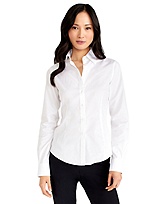 Unlike a friend who lost her home and all her belongings in the Oakland Hills fire  (or a cousin who once  had most of her wardrobe stolen from a laundromat!),  I've never  had to replace an entire wardrobe.  The closest I get to starting over sartorially is putting together a wardrobe for a trip–which is one of my favorite parts of travel. Starting with a few new things and building a perfectly coordinated set of ensembles for Idaho/NYC/Vienna addresses the teency weency streak of perfectionism I carry around. Plus I've always liked the idea of reinvention.
Fashion designer Nanette Lepore champions transformation through your closet in an interview with Annette Tapert in today's WSJ. Tapert asked nine prominent fashion designers what they would do if they had to start all over and create an entire wardrobe for themselves.  Lepore said that having to replace everything would be a unique opportunity for self reinvention.
Several other designers quoted seemed less inclined to reinvent than to restock. Donna Karen would buy 7 Easy Pieces that could be mixed and matched.  Vera Wang would replace her trademark leggings and cashmere cardigans.  Carolina Herrerra would track down another perfect white shirt.
If my wardrobe went poof?  No doubt I'd throw in with the restocking crowd and replenish my uniform of dark wash jeans, white shirts and cashmere cardigans. But wouldn't it be fun to play a little grownup dress-up as well?  Maybe with something from Lepore's own line?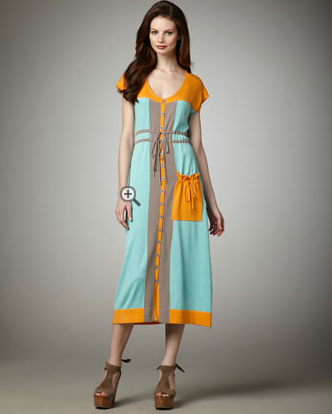 * I kid you not, need I remind you that I grew up on a farm?
White shirt from Brooks Brothers
Nanette Lepore Color Block dress from Bergdorf Goodman