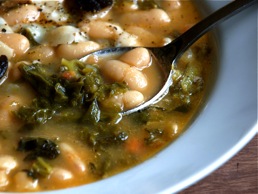 Living in the Bay Area, I could shop at a nearby Farmer's Market or artisanal grocery store daily, but on a cold winter afternoon I'd just as soon forage in my own pantry. Surveying cupboard options this weekend, I figured the butternut squash that arrived in my CSA box before the holiday break would make a good winter soup for a Sunday supper with friends. My husband was actually the designated chef for the day and since he loves nothing more than USING UP WHAT WE ALREADY HAVE this menu made him very happy.  And then he found an Alice Waters recipe that not only required the early December squash but also some white beans from the pantry, which had him practically skipping around the kitchen.  I returned after a full day of church meetings (just one of those Sundays) to a steaming hot bowl of  this.  Heaven!
White Bean and Butternut Squash Soup

from Alice Waters' The Art of Simple Food
Soak in 4 cups water overnight:
1 cup dried white beans
Drain and put in a large pot with:
3 cups chicken broth
4 cups water
Bring to a boil, then lwoer the heat and simmer until the beans are tender. Start checking after 45 minutes.  Season to taste when cooked.
Heat in a heavy-bottomed pot:
2 tablespoons olive oil or duck fat
Add:
2 onions, sliced thin
3 or 4 sage leaves
1 bay leaf
Cook over medium heat until tender, about 15 minutes.  Stir oin:
1 medium butternut squash, peeled and cut into 1/2-inch cubes
Salt
Cook for 5 minutes. Drain the beans and add 6 cups of their cooking liquid to the squash and onions.  Cook at a simmer until the squash starts to become tender. Add the beans and keep cooking until the squash is very soft.  Taste and adjust hte seasoning if necessary.