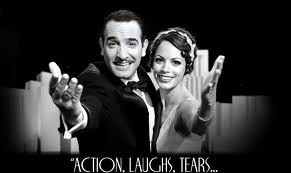 Almost every weekend you're likely to find me at the movies with my husband.  Our first date was to see Werner Herzog's Aguirre: The Wrath of God at our campus's international cinema. Ah, cinema nerds in love–wunderbar!
Thirty-one years later we're still splitting a small bag of popcorn and  some Red Vines while we take in a big screen release.  On Saturday we saw the holocaust movie In Darkness–Poland's entry for this year's best foreign film–in preparation for the Academy Awards.  Our daughter was home for the weekend to shop for a wedding dress (she's marrying a cinephile, too!) and tagged along.  After two and a half hours watching brave Poles struggle to survive in the sewers of Lvov, she said she was grateful it wasn't a "scratch and sniff" movie.  Agreed.
Speaking of movies–every year I salute my favorite interior design details at the movies.  Check the winners out here.