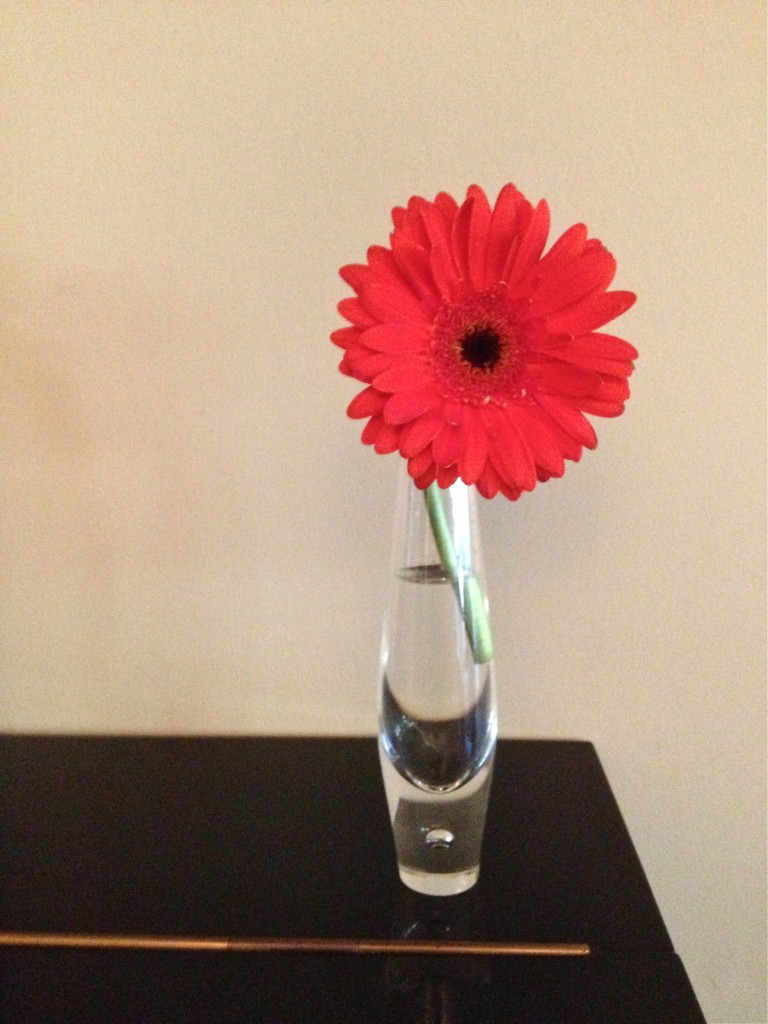 The night before our wedding, my oh-so-chic Aunt Carole and Uncle Curtis gave us an elegant bud vase made by the Stueben Glass company. Recognizing that we didn't have a clue about fine art glass, they let us know that this little vase was something of value. That it might be an heirloom someday. We took note and carefully packed the vase away for the next 32 years. Since this last move, however, I've put it where I can easily see and use it. Right now it's sitting on top of my piano, holding a red gerbera daisy that we brought home from a performance of the AXIS Dance Company last weekend. Every time I look at it, I'm delighted by the little bubble in its base and regret that I haven't used it more often.  What was I saving it for?  A tea party with the queen? So far no royal invitations have been extended. But now that the vase is out of its protective wrapping, I'm definitely ready should her royal highness decide to drop by.  Are there things you're saving for the perfect time and place that should become part of your everyday world?
Here are a few other useful and beautiful things I enjoyed this week:
1. As the oldest of nine children, I can verify that families are messy. But as this essay shows, knowing the good and the bad in our family's stories can help support and sustain us.
2. Last year I had two opportunities to be the Mother of the Bride. Which made me ever so curious about what Barbara Kingsolver had to say about her recent turn as a MOB.
3. After five years, I'm still mourning the demise of my local stationary store. Now I have to rely on the internet for unusual, artful products like this design notebook.
4. Speaking of design, here's a lovely little tale by Christopher Neimann about making an app. The take away quote for me: "Simplicity is not about making something without ornament, but rather about making something very complex, then slicing elements away, until you reveal the very essence."
5. I'm intrigued by the knit fungi produced by American artist Leigh Martin for her 52 Fungi project. See a few samples at her web site or collected at The Jealous Curator. Just another example of how different, and therefore delightful, we all are.
Happy Weekend!