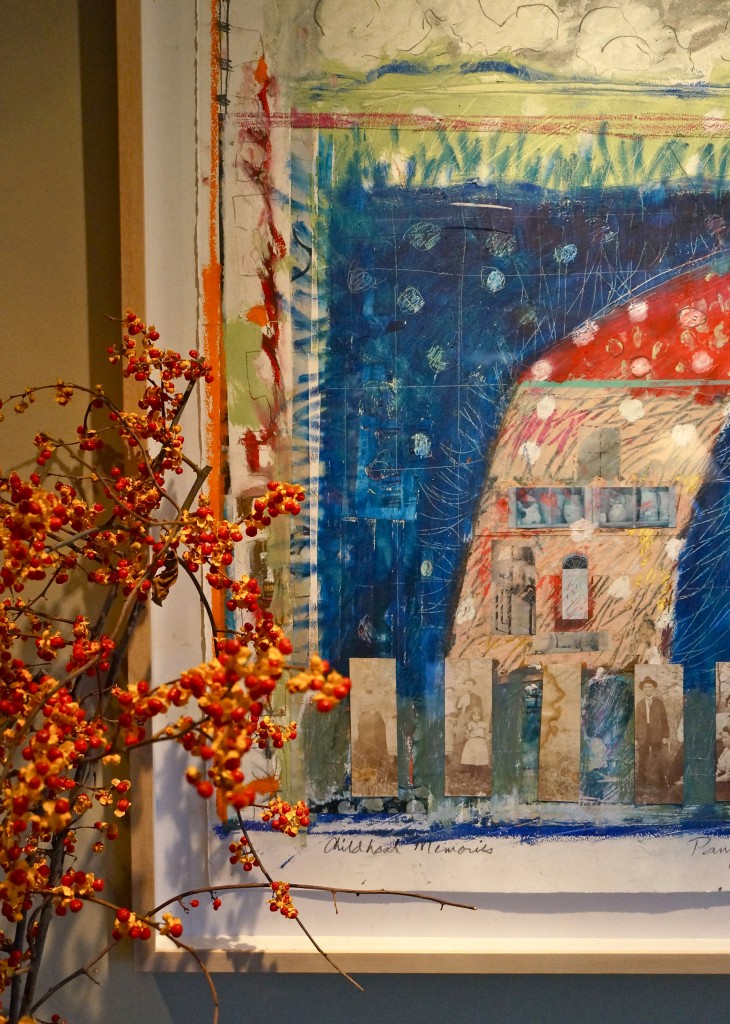 When we were young and broke it was a challenge to fill our empty walls with something more than inexpensive framed posters.  We actually rented our first piece of original art through a rent-to-buy program at the Oakland Museum.  That program has since been discontinued (though SFMOMA still runs one), but I'm grateful that it allowed us to sample art not found in a cardboard tube. Twenty-two years later I still love that rented, and eventually purchased, piece—a collage called "Childhood Memories" by Berkeley artist Pam Johnson. Mostly because it evokes the farm landscape of my childhood and my pioneer ancestors, but also because it is unique, one-of-a-kind, special. Even more so now that it's made four different homes ours.
Find out more about selecting, buying and displaying art for your home in my latest BANG article.  As designer Kriste Michelini says, "Art should bring you joy!"
Here are a few other arty things I enjoyed this week:
Simple holiday decorations like these needlepoint houses are the best.
On the other hand, this quirky, complex, lovely home (owned by the visual director at Eileen Fisher) invites exploration.
Quilted landscapes (thanks Heather) look like elaborate Settlers of Catan game pieces, don't they?
This little pep-talk on setting priorities by Anne Lamott rang true.
I loved this glimpse into the marriage of performance artist Laurie Anderson and musician husband Lou Reed.
Here's some good advice for beginning writers.
I want to try this apple cake this weekend. And learn more about salt.
Just for fun, here's the Story of Thanksgivvukah.
And finally, how one doctor's heartache helped him connect to his patients.
Happy Weekend All!