I've been busy setting up camp these past few months but now it's time to set out on another expedition.  I'm headed to  Switzerland and Germany to do a little novel research and see our son Will who has been working in Stuttgart for the past six months. Inspired by the packing posts from Sue at Une femme d'un certain age  as she prepped for her spring trip to France, I decided to limit my wardrobe to 12 pieces (not counting under and outerwear).  Considering that the weather forecast shows cool and wet for the first part of the trip in Switzerland and hot and muggy for the second half in Germany,  here's what I came up with: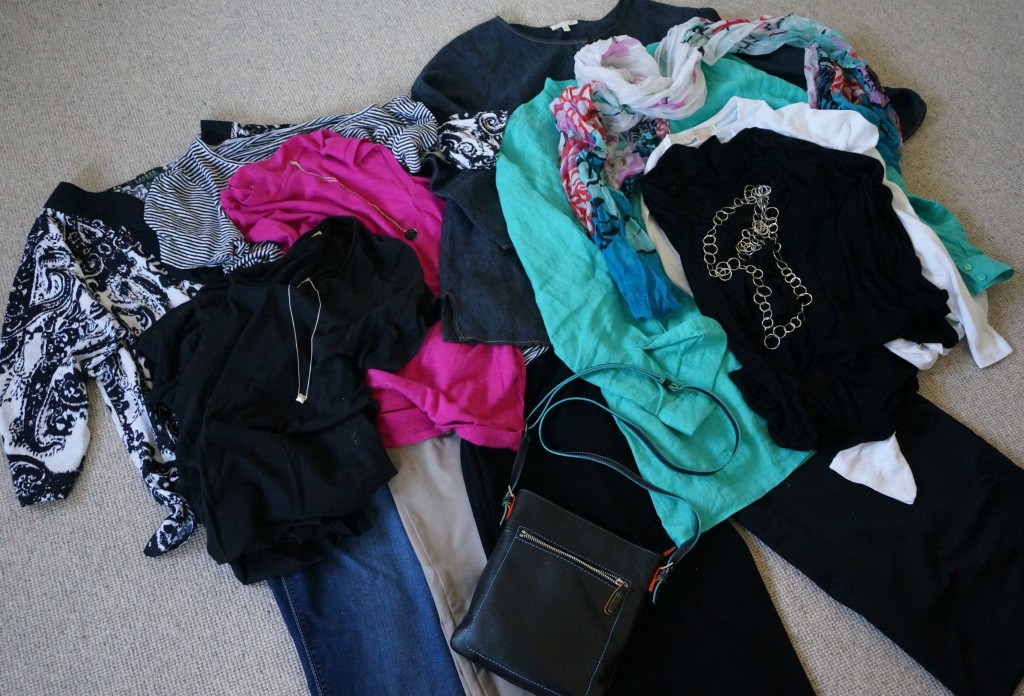 For bottoms,  I've packed—
Boyfriend jeans (Macy's Inc.)
Stone ankle crops (Eileen Fisher)
Black knit capris (Eileen Fisher)
Black stretch cotton pencil skirt (Calvin Klein)
This pretty much covers the range from long to short (or at least as short as I'm willing to wear) so I hope I can navigate the temperature changes smoothly.
For tops, I'm taking–
Black v-neck tee (Eileen Fisher)
Black and white striped v-neck tee (Eileen Fisher)
Pink v-neck tee (Michael Kors)
Black & white ikat print knit shirt (Ralph Lauren)
Mint green linen shirt/jacket (Eileen Fisher)
Denim-like linen jacket (Eileen Fisher)
Black three-quarter sleeve sweater (Bobeau)
White sweater (Michael Kors)
Lots to mix and match here and everything pretty much coordinates, though the blue linen jacket may demand more from its travel mates in terms of shape and color than they really have to offer.  Still.  I like it and want it to see the world.
On the plane I plan on wearing the jeans, black sweater, pink shirt (the better to hide spills and it's the lightest and therefore easiest to handwash), a big scarf for warmth and my trainers.
For outerwear I'm torn between a rugged Eddy Bauer jacket in "lobster" red that was a mainstay on my rainy Peru trip and a more elegant but less waterproof slim grey trench from, again, Eileen Fisher.  Here's the trench with my go-to walking sandals from Naot and two of my favorite travel bags–a Bagallini messenger bag that can accommodate a guidebook and a Le Sport Sac lightweight tote that can carry a host of souvenirs (exhibition guides! cheese! dirndls?).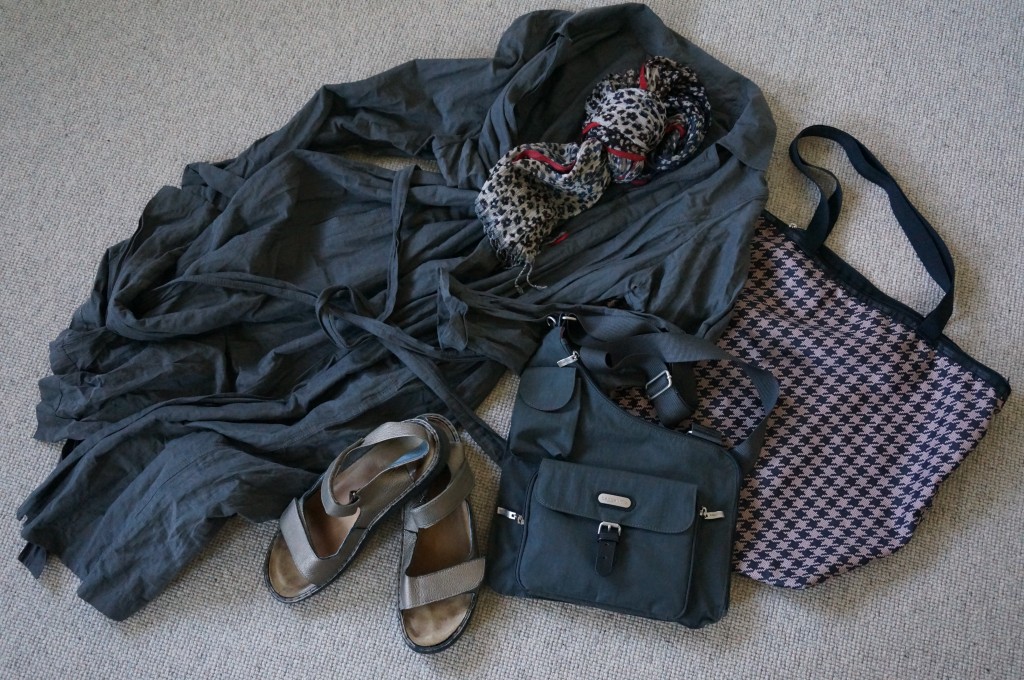 I'm also bringing these bright trainers from New Balance and some kicky new walking sandals from Wolky in a citrusy green—one of those off colors that matches nothing exactly but complements the black/white/brights in the rest of the wardrobe which hopefully means it will match everything. This pair of sandals is the ONLY new thing I bought for this trip.  I think that's helped keep the numbers down since often when I buy too many new things for a trip, I overpack in order to bring the new things as well as the tried and true favorites.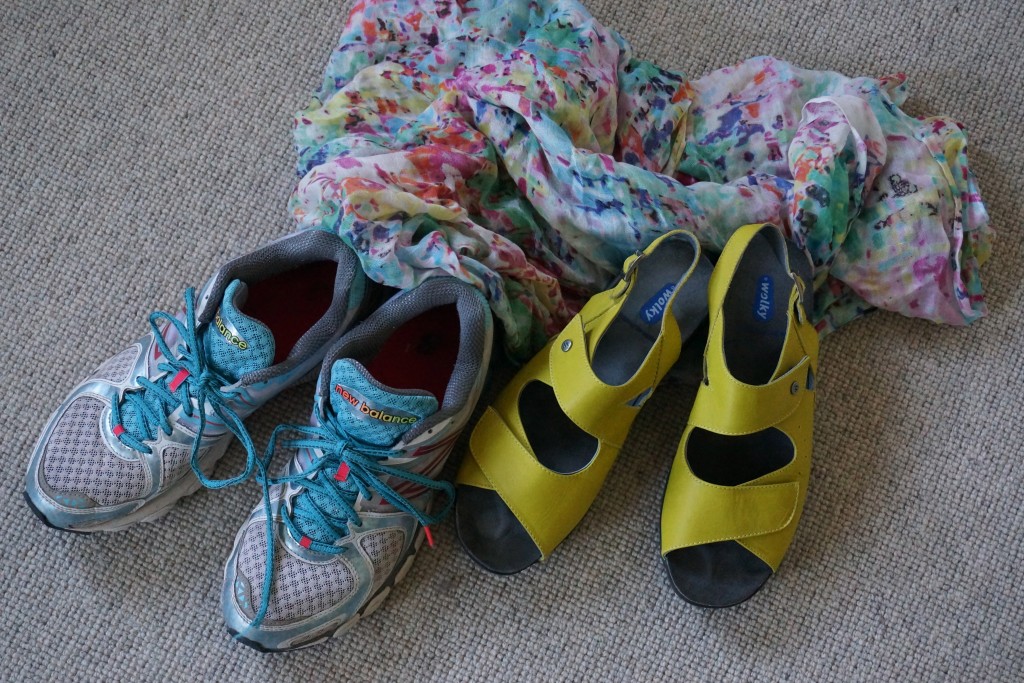 I've thrown in a couple of scarves and some silver jewelry but know I'll likely add more on the road. These colorful glass drop earrings are from San Francisco jewelry designer Alexis Berger and can be purchased at Castle in the Air on 4th Street in Berkeley. They're very comfortable and I love how they catch the light. The black onyx faceted discs are from Philippa Roberts on Piedmont Ave. in Oakland and I think the pendants might be from Kenneth Cole (Macy's) a few years back.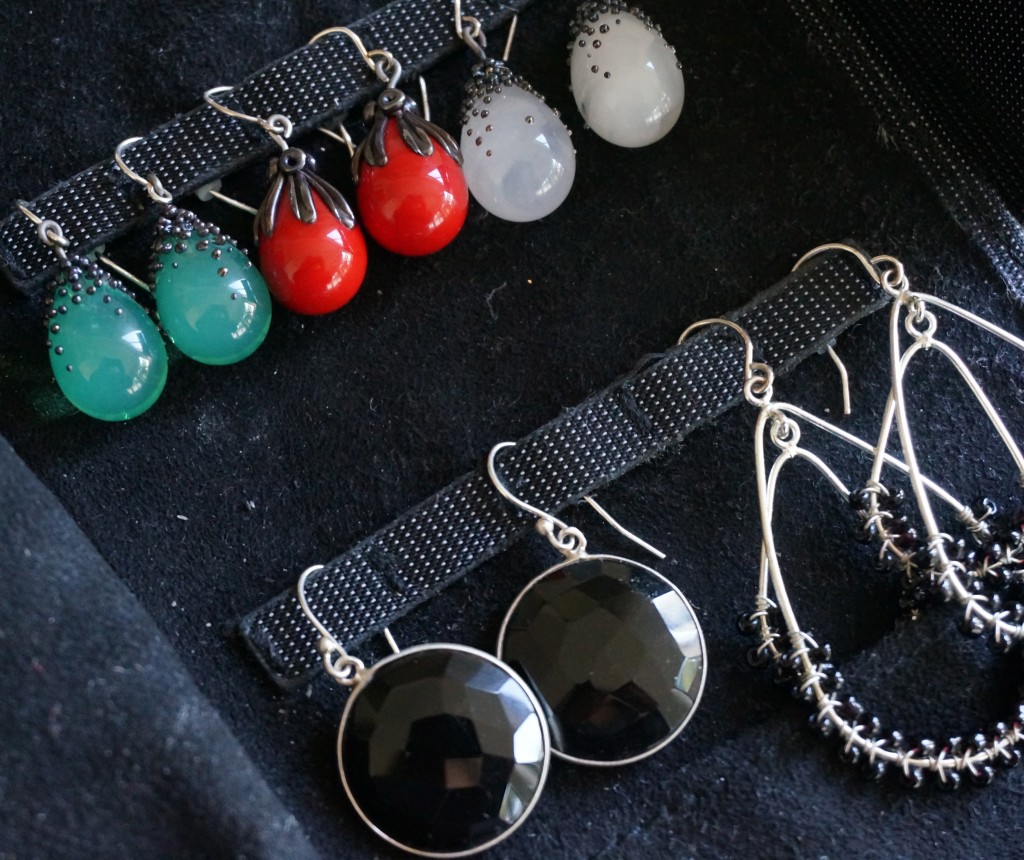 Oh, and because Germany will be playing in the final rounds of the World Cup next week, I've thrown in my only red/gold scarf  to join a crowd somewhere and cheer along.  Go Deutschland!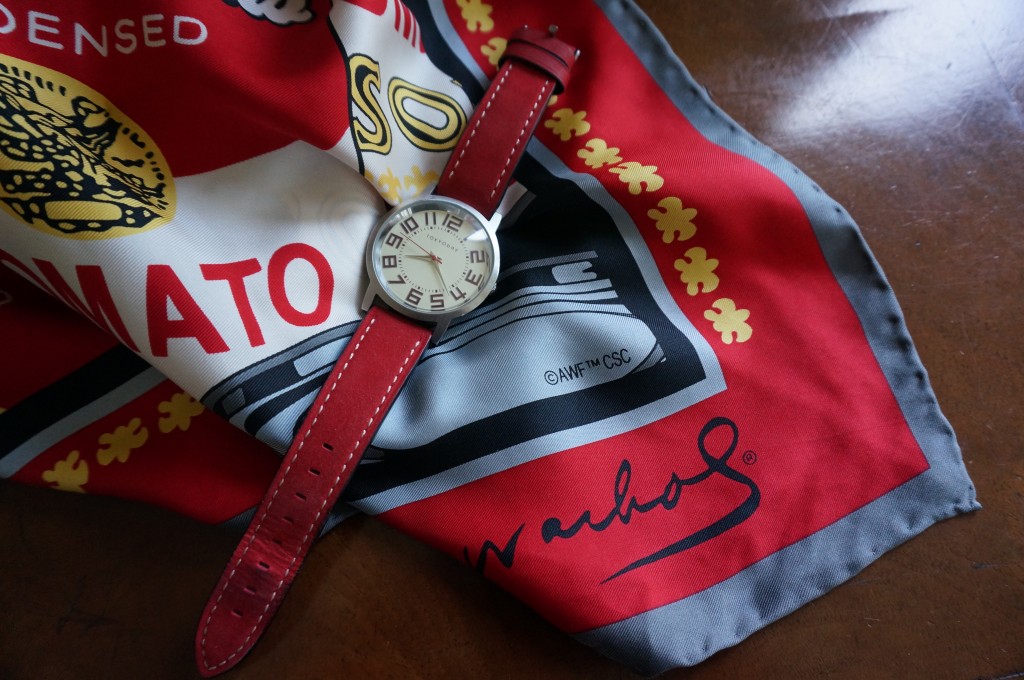 To see the wardrobe in action, you can follow my Instagram feed by clicking on the link to the right. I'll let you know how it all worked out when I return.
Auf Wiedersehen!