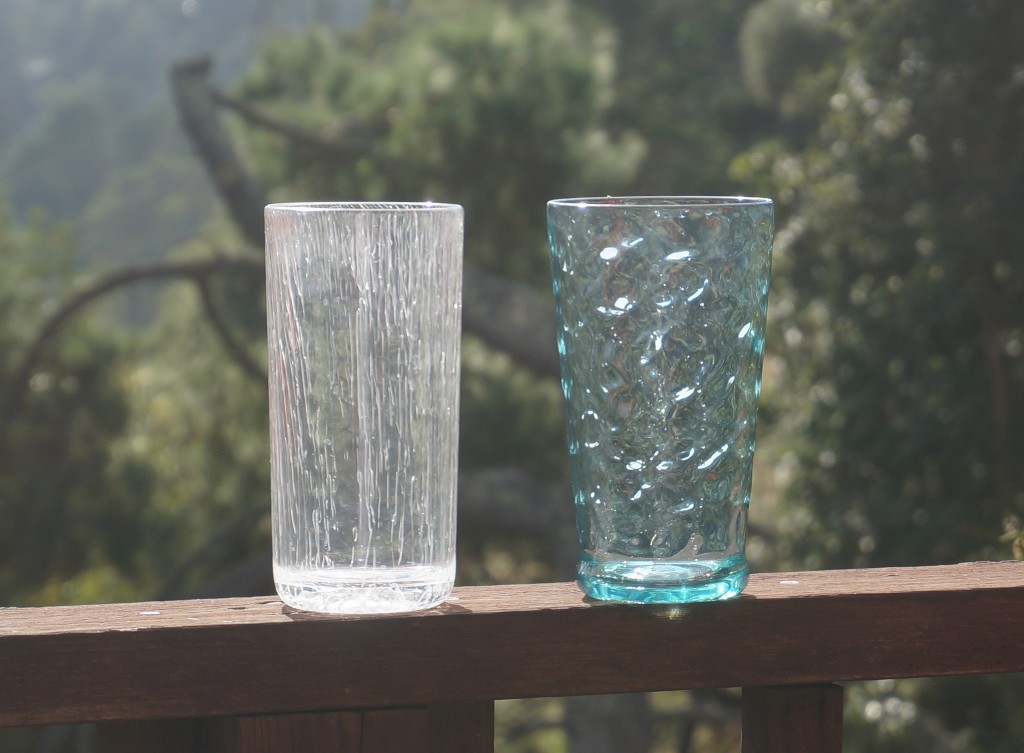 They say this will be the last super hot weekend around here for awhile.  Which makes sense, since we're having air conditioning installed on Monday.
Until it—and the fog—arrive, we'll be hydrating like crazy. And thus, today's Friday Things topic: Plastic Tumblers.
We own a range of nice drinking glasses—everything from the now vintage olive green goblets we got as wedding gifts in 1980 to sleek, contemporary (and easily replaceable) old-fashioneds from Crate & Barrel.  But none of them really hold the amount of ice water/lemonade/Diet Coke that a tall, plastic tumbler can.
For years we had kid-friendly Tupperware tumblers in bright colors.  But it seemed like it was time to class up the everyday glassware  a bit.  I spotted some elegant straight sided clear tumblers on the end-of-summer sale table at Pottery Barn and snapped them up only to find that they couldn't survive the dishwasher (ahem, not disclosed when I purchased them).  They ended up streaked and cracked and basically useless after a few washings. (See above left.)
I took my search more seriously and finally settled on the Valencia Tall Tumblers from Williams-Sonoma.  So far they're holding up just fine.  They're sturdy, the rim is nicely rounded so they're comfortable to drink from, and they look like running water—a cooling visual effect. Also, like something my Grandma Loosli would have owned.  I'll let you know how they perform on this last big weekend of icy beverage consumption. In the meantime, here are a few other things I test-drove this week:
Commiseration for those, like my daughter Sydney, who aren't so happy about fall. (Not me, I can't wait for it to cool off around here!)
A spooky fun October/Halloween decoration project.
A peek into this SF cookbook author's kitchen–love the washi tape labeling idea.
The fuss about how women speak.
One person's meditation about finding his faith (which happens to be my faith.)
This waving Solar-Powered Pope Francis.
My sister Michelle LOVES and heartily endorses the soundtrack to the Broadway production of Hamilton. Can't wait to give it a listen.
In the meantime, I've been listening to Irish singer songwriter Glen Hansard's new album "Didn't He Ramble" all week and enjoying it very much.

Happy Weekend All!  Stay cool.