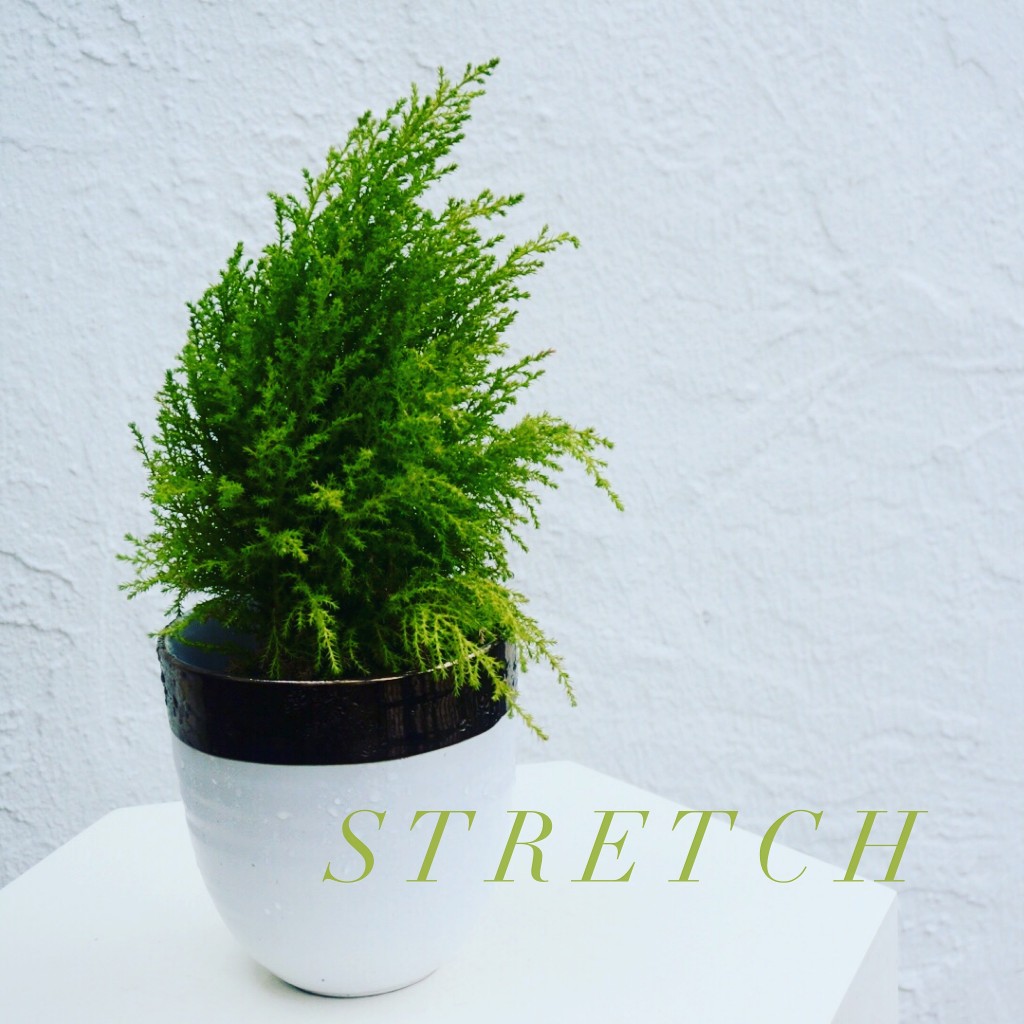 For the last few years I've focused less on setting specific goals and more on choosing a word that speaks to my intention for the year.  Last year's word was "Ease."  This year I've settled on "Stretch" as my word for the year.  I'm hoping that by setting "Stretch" as my watchword I'll be more expansive and flexible. That I'll extend a helping hand more frequently and consistently. That I'll eventually do "child's pose" without falling on my face.
There are a few other specific ways I'd like to Stretch in 2016.  These aren't big changes. It's not that you can't teach this old dog new tricks, but I've already learned a lot of tricks in my life that work well already.  They're also not intended for the entire year. My son-in-law mentioned over the holidays that he is always setting goals but does it on a quarterly not yearly basis.  That makes sense to me.  Who knows what I'll be trying to tweak in December? Maybe some of the same things, maybe not.  But for the next three months I'd like to Stretch in these ways:
1. At Home: I'd like to have more room to stretch out in my kitchen so I'm editing down some of my cookware and either getting rid of occasional use pieces or moving them to secondary storage.Also,  my cookbooks are beginning to overflow their allotted shelves. When we moved a year and a half ago I pared the volumes down to ones I cooked from regularly but a few new books have joined their ranks.   In order to determine whether a book stays or goes, I've decided to "feature" one of these newcomers each month and try at least one recipe a week from the featured cookbook that uses vegetables from my CSA box.  That will help determine if it's earned a place on the shelf.
2. Intellectually: I'd also like to extend my attention span by reading more of the New Yorkers that pile up by my nightstand.  My niece Hannah is a voracious reader and for the past few years has read every New Yorker cover to cover.  (You can see her list of favorite top ten articles in the 2015 New Yorkers here.)  I'm not willing to make reading every New Yorker my New Year's goal, but for the first quarter of the year I'm at least going to read each week's short story and likely pick up a few more articles along the way.
3. Physically: I'm lucky enough to live across the street from a beautiful swim club where I take water aerobics and yoga classes regularly so that allows me to stretch out 3-4 days a week.  On the other days I tend to stretch my legs by walking in the nearby hills with M.J. Or friends. On those days I'm going to do a little home stretch session as well—probably through the Sworkit app on my phone.
4. Towards Others: And finally, I'd like to be better at extending a helping hand to people at both ends of the age spectrum. Phone calls or visits to older women, babysitting for younger moms, and my ongoing volunteer work teaching foster kids writing and life skills.  I figure those of us in the middle with experience, resources and energy need to help where we can. Taking a moment every Sunday to reflect how best to do this in the coming week seems like a good system for now.
Hmm, this sounds like I'm setting goals now doesn't it?  Can we call them intentions instead? Because intentions feel more realistic as I stretch out in the New Year.
I'd love to hear how you approach New Year's goals and resolutions?  It's so different for everyone, don't you think?
In the meantime, here are some other January things.
A year later, are you a Konvert? (My sock drawer is.)
Delia on setting concepts, not lists.
Some useful organizing tips from a young mom.
Thoughtful, low-key New Year's resolutions.
Are you the Person of the Year for 2015 as well?
And finally, shouldn't we all be practicing power poses? (this Ted Talk is old and popular, but it's the first I've seen it—maybe you too?) Tomorrow I'm going to work on these out-Stretch-ed poses with my foster kids.

Happy Weekend All!