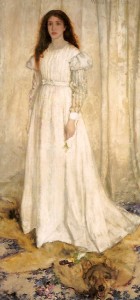 After the full-court press to beautify our home for its first open house this weekend, it was a relief to go play. And by play, I mean stay away from our beautiful house and find amusements elsewhere.  We took in some movies (Salmon Fishing in the Yemen, yes!) and traveled across the bay to check out the rotating floral mobiles at the DeYoung that I wrote about here.  After enjoying a fine seafood stew in the café, we continued on to the Legion of Honor to see The Cult of Beauty, an exhibit on the British Aesthetic Movement filled with treasures from London's Victoria and Albert Museum.
The art and artifacts were indeed beautiful.  Paintings depicting languid red-haired muses alternated with exquisite pieces of fine furniture. Looking at the auburn-haired girl in Whistler's Symphony in White No. I: The White Girl, I wondered whether there were an exceptional number of redheads in Victorian England. Otherwise, how did each artist find his own gingery goddess?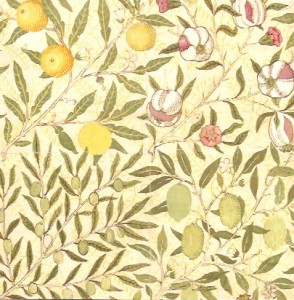 Serving as quiet backdrops to many of the vignettes were some lovely wallpapers by the Bay Area's own Bradbury & Bradbury. The quiet leafy repeats on the hand-printed papers added texture and depth to the displays.  Although my favorite wallpaper design was actually the original Design for Fruit (or Pomegranate) by William Morris. Yummy!
Like the French Impressionist exhibits last year, though in a much less exhaustive fashion, The Cult of Beauty tries to establish how distinctive this movement was from what came before.  Of course, today the Craftsman and pre-Raphaelite work seems not so daring, but the exhibit highlights forward-thinking elements like the modern pattern of the red-haired queen's robe in John Everett Millais's painting of Esther. Apparently, Esther is wearing her heavily embroidered robe inside out, which is why the decorative pattern seems so contemporary.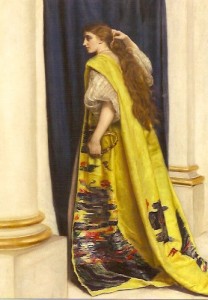 The show runs through June 17 at the California Palace of the Legion of Honor. Worth leaving your home for—no matter your reason for escaping.