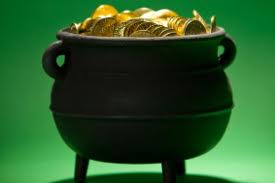 At 6:05 this morning my friend Rosie called to see if I was still willing to meet up for our weekly walk in Mountain View Cemetery.  The first real storm of the year was in full force and I knew I could stay in bed with a clear conscience. I was tempted to cancel, but it's usually so magical early in the morning in that park-like space that I said I was still game.
We parked outside the cemetery gates and took off in the storm, zigzagging up the hill as we commenced our weekly therapy session. But before we reached the top we turned back, soaked to the skin and worried about slipping and falling.
We were almost back to the entrance gate when Rosie interrupted my saga of house-selling bad luck and pointed at a glowing light that moved from one low black tombstone to another.
"What's going on over there?" she said. "Must be leprechaun lanterns or, better yet, pots of gold!"
Of course, it didn't take long to see that the light from a vehicle parked near the entrance was reflecting off the wet headstones, "moving" as we moved towards our cars.
Here's a shot of the tombstones an hour later after the sun was up.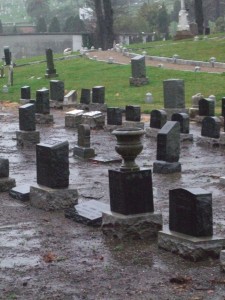 And here's a glimpse of a blurry pot of gold as seen through my rainy windows.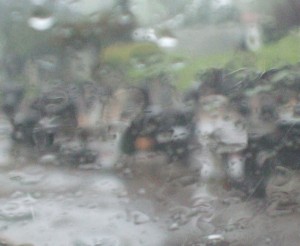 So, at the risk of spreading a little blarney here, I wanted to note that this morning's extra magical cemetery walk confirmed that pots o' gold aren't always found at the end of a rainbow.  Sometimes they show up in the cold, wet, mud-spattered dark—but you'll never see them if you aren't out in it also.