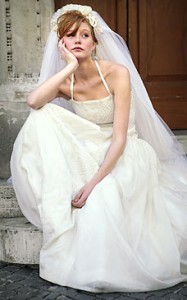 So after a long day of viewing places to rent we got a call from our realtor telling us that our buyers had dropped out.  Three weeks into our courtship they were dumping us without warning. Their realtor didn't leave an explanation in her abrupt email saying they wanted to cancel the contract. But eventually the truth came out that they had made a verbal offer on another property.
All those declarations of love regarding my ruby-red kitchen, the exquisite original molding and the rose-filled garden were for nought. Apparently, an attached two-car garage and closer proximity to the grade school seduced them and, poof, they were gone.  Hard not to feel like a jilted bride.
"What goes around comes around," said our indignant realtor as we explored What's Next.  It's nice when people articulate your bitter feelings so you don't have to.
After curling up in fetal positions on opposite ends of the sofa that night, we rallied and resumed staging the house. This weekend it will officially go on the market and  there will be a parade of new potential buyers through our doors and maybe this time love will stick. At least the hopeless romantic in me likes to think so.