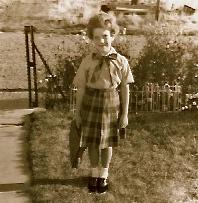 Everywhere I click there's a First Day of School photo showing a beaming child about to start a new school year (just like me here on my first day of first grade).  It's been a few years since I had any of my own children around for a First Day photo, but this morning as my daughter and her new husband stood in front of their car about to head off to grad school I couldn't resist capturing the moment.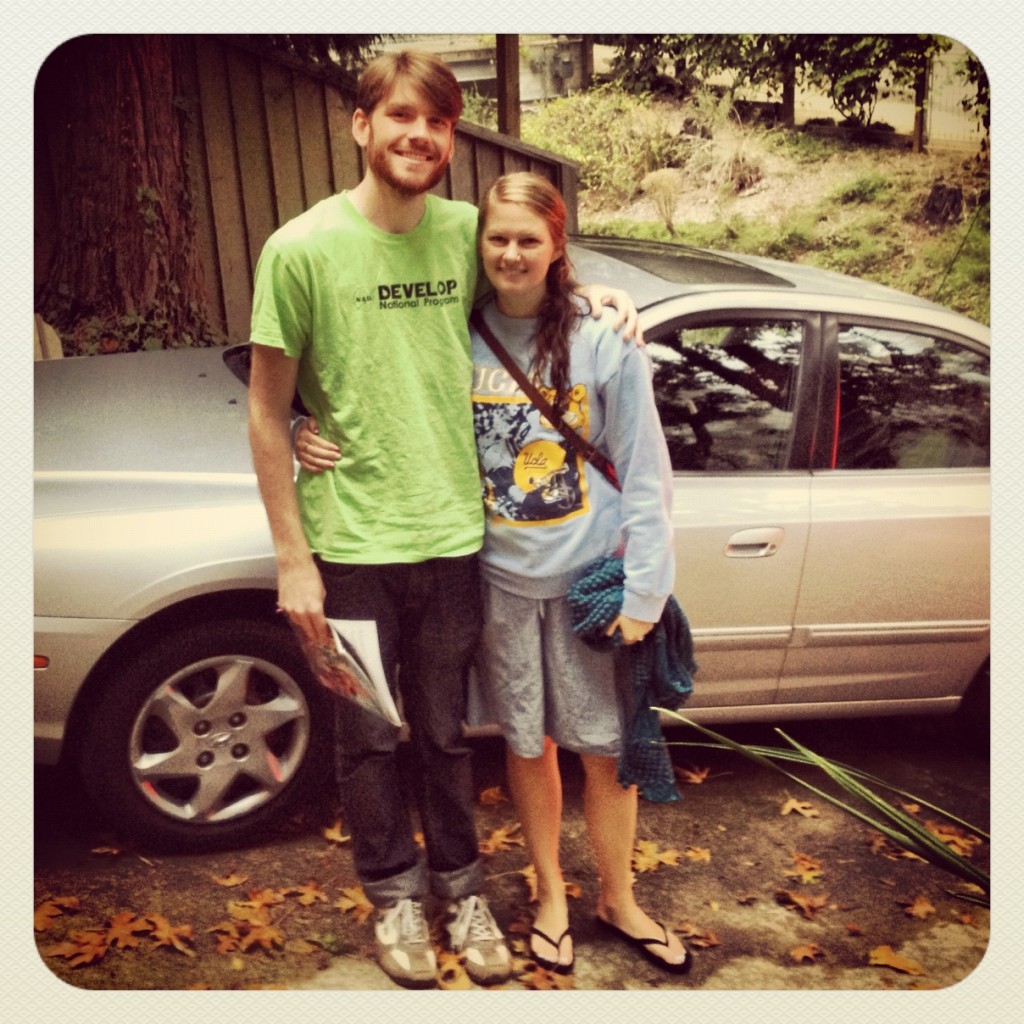 Look at them.  Happy, a little nervous, freshly scrubbed and ready to tackle a new adventure.
Isn't that what we're capturing in all those First Day photos? Academic adventurers with scabbed knees and brand new backpacks forsake swim lessons and tennis camp and knuckle down to drafting equations and conjugating verbs. Somewhere along the way they'll discover skills they never knew they possessed and friendships they didn't realize they couldn't live without. Gap-toothed grins eventually give way to serious smiles as these little scholars grow up and accept diplomas that verify they're ready to attempt a life's work.
My little girl is off to Harvard Law, following in her daddy's profession.  Here's a photo of him and me at the same age standing on the patio of our student apartment in Berkeley. Babies, we were just babies.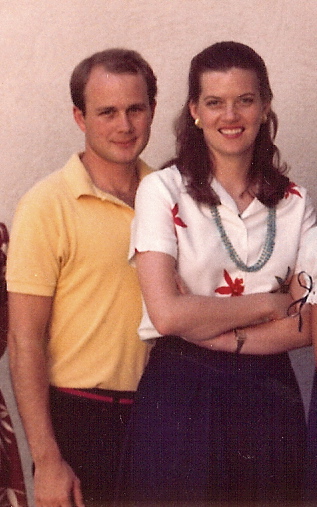 Last night when I asked the newlyweds whether they would like to go out to a favorite restaurant or have one last home-cooked meal they opted for the latter. Figuring that vegetables might be in short order on their week of cross-country driving, I pulled out some old favorites including a turkey meat loaf laced with red peppers, mushrooms and leeks and my Aunt Adrienne's famous Chocolate Zucchini Cake.
For anyone else sending loved ones out the door, even if it's just down the street to learn that the ankle bone really is attached to the shin bone, these comfort food recipes will encourage them to head home once that last bell has rung.
Terrific Turkey Loaf
From Jane Brody's Good Food Book
1 tablespoon vegetable oil
2 teaspoons minced garlic (2 large cloves)
1 cup finely chopped celery (2 large stalks)
1 cup thinly sliced leeks (white and pale green parts) or ½ cup chopped onion
1 ½ cups diced red sweet pepper (2 medium) or 2 roasted red peppers, diced
2 ½ cups thinly sliced mushrooms (1/2 pound)
1 ¼ pounds ground turkey
1 egg white or 1 whole egg, lightly beaten
½ teaspoon salt, if desired
½ teaspoon freshly ground black pepper
Dash nutmeg
½ cup fresh bread crumbs (1 slice)
½ cup minced fresh parsley
1. In a large skillet, preferably nonstick, hear the oil briefly, and sauté the garlic, celery, leeks or onions, and red pepper, stirring the vegetables until they are slightly softened (do not let them burn), about 3 to 5 minutes.
2. Meanwhile, boil a kettle of water, and preheat the oven to 375 degrees.
3. Stir the mushrooms into the red pepper mixture, cover the pan for a few minutes until the mushrooms start to give up their liquid, then remove the cover, and sauté the vegetables, stirring them, until all the liquid has evaporated.  Remove the vegetables from the heat and set them aside.
4. In a large bowl, combine the turkey, egg white or whole egg, salt, pepper, nutmeg, bread crumbs, and parsley.  Add the sautéed vegetables, and combine the ingredients well.  Transfer the turkey mixture to a lightly greased loaf pan (approximately 8 x 4 inches), and set the pan in a large, shallow baking dish.
5. Place the pans in the preheated oven, pour the boiling water into the outer pan to a depth of about one inch, and bake the loaf for 1 hour 15 minutes.  Remove the loaf pan from the outer pan and from the oven.  Let the loaf rest for 15 minutes, then remove it from its pan for slicing.
Zucchini Chocolate Cake
shared by my great aunt Adrienne Loosli Doty when I  married
Cream together:
1/2 cup margarine ( I used butter)
1/2 cup oil
1 3/4 cup sugar
Add:
2 eggs
1 tsp. vanilla
1/2 cup sour milk (buttermilk)
Blend thoroughly. Add dry ingredients:
2 1/2 cups flour
1/2 tsp. each—cinnamon, cloves, and salt
4 T. cocoa
1 tsp. soda
Stir in:
2 cups grated zucchini
Put in greased and floured 9 x 13 pan.  Top with:
1 cup chocolate chips
1 cup nutmeats (walnuts or pecans)
Bake at 325 degrees for 45 minutes or until done (it's usually done in 35 min. for me).
Serve with whipped cream or vanilla ice cream.