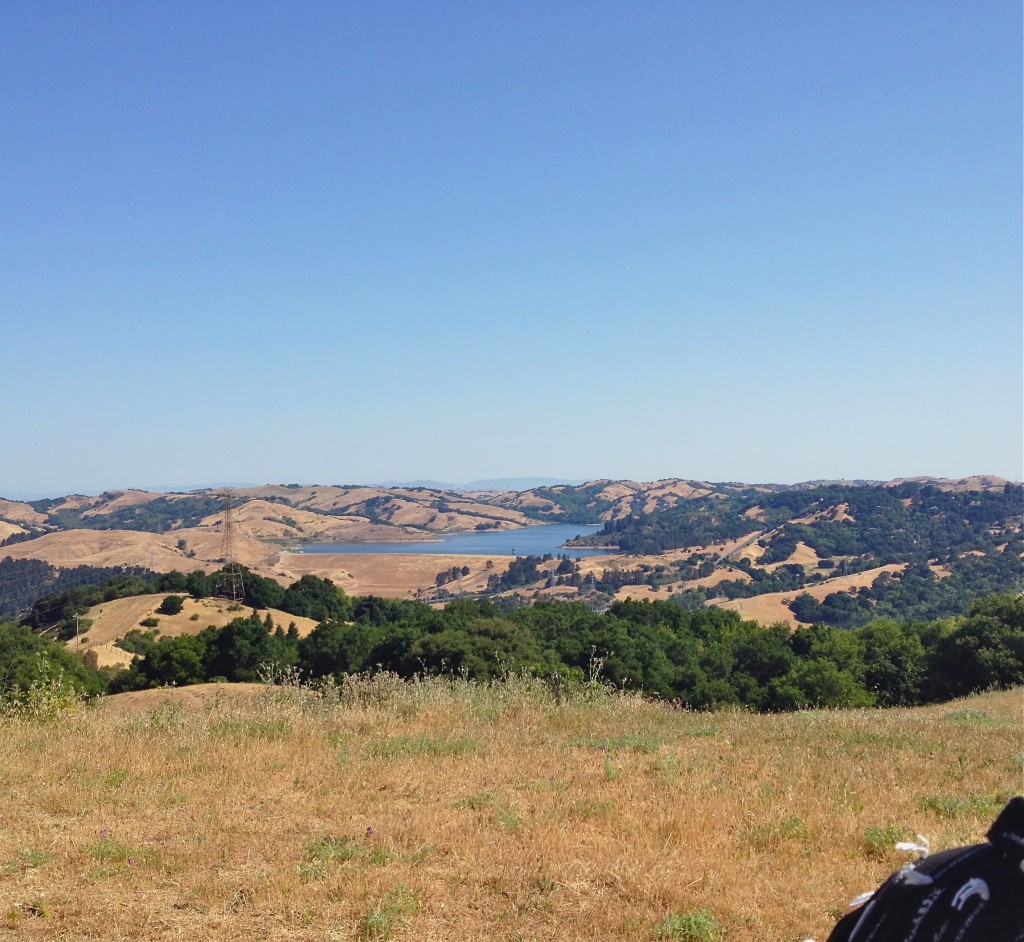 I spent much of Saturday walking on holy ground.  First in the East Bay hills, next in another faith's church, and finally, in a basketball gym. Sacred spaces all.
I was up in the hills for a memorial service was held on a private ranch overlooking Contra Costa county.  A dozen of us gathered to spread the ashes of a difficult woman we'd all had the opportunity to serve.  Barbara joined our church congregation 16 years ago and spent most of that time battling enormous physical and mental challenges.  Essentially alone in the world, she turned to her new church family for help. Though she was legitimately needy, Barbara was also belligerent and rarely grateful.  She tested us all.   In helping her I often felt I came up short, wishing I showed more genuine charity under duress.
But on a beautiful morning looking out over golden California hills broken up by a sparkling blue reservoir and a lush green golf course, I felt a surprising tenderness for Barbara.  We sang "We Are All Enlisted Till the Conflict is Over" and "God Be With You Till We Meet Again" as well as told stories of what serving Barbara had taught us.  As we released six balloons into the cloudless sky to commemorate her six plus decades on earth I was grateful that she was freed at last from the bondage of her mind and body.  And I was honored to be in the company of the truly good people who had served her over the years.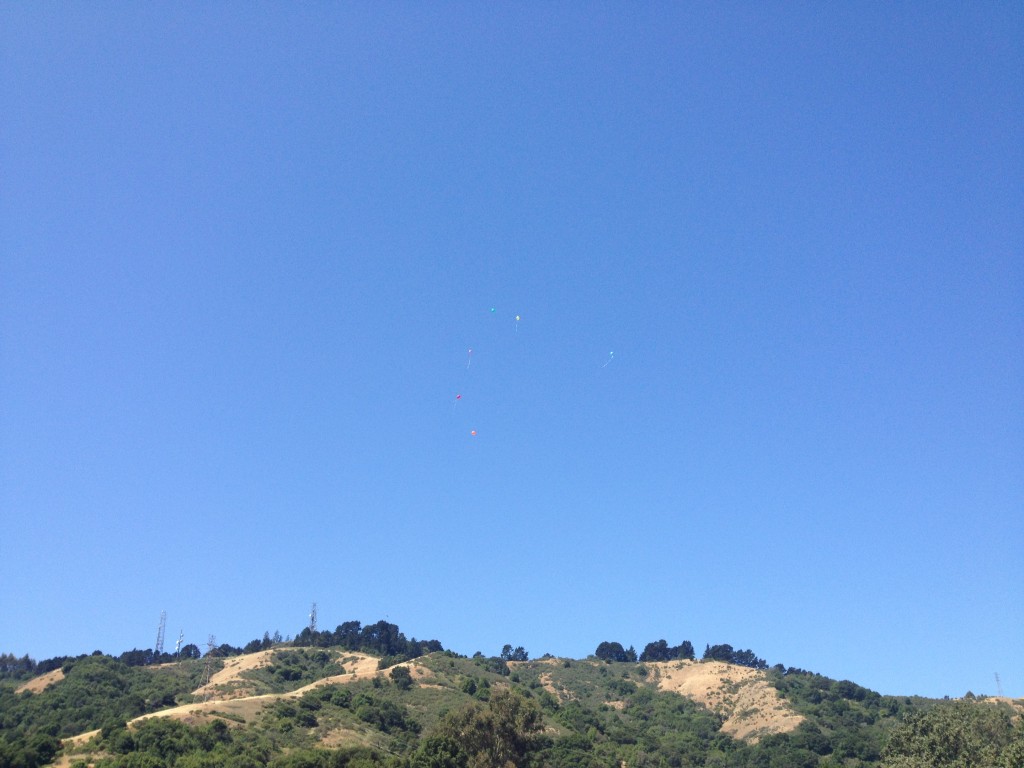 Then we drove into the city to see Laney, our family friends'  daughter all grown up now, lead an alumni chorus of San Francisco Girls Choir girls women as they sang Brahms and Randall and Gershwin in the grand setting of St. Mark's Lutheran Church on O'Farrell.  With roots in the San Francisco Gold Rush, the gorgeous interior mixes Romanesque and Gothic details in an inspired mix of softened primary colors that was as elevating as the music.  Particularly lovely was the sight of Laney's sister Rachel on stage singing "'S Wonderful," her belly swelling with a new baby after losing her first child to a rare genetic disorder.  Glory Hallelujah!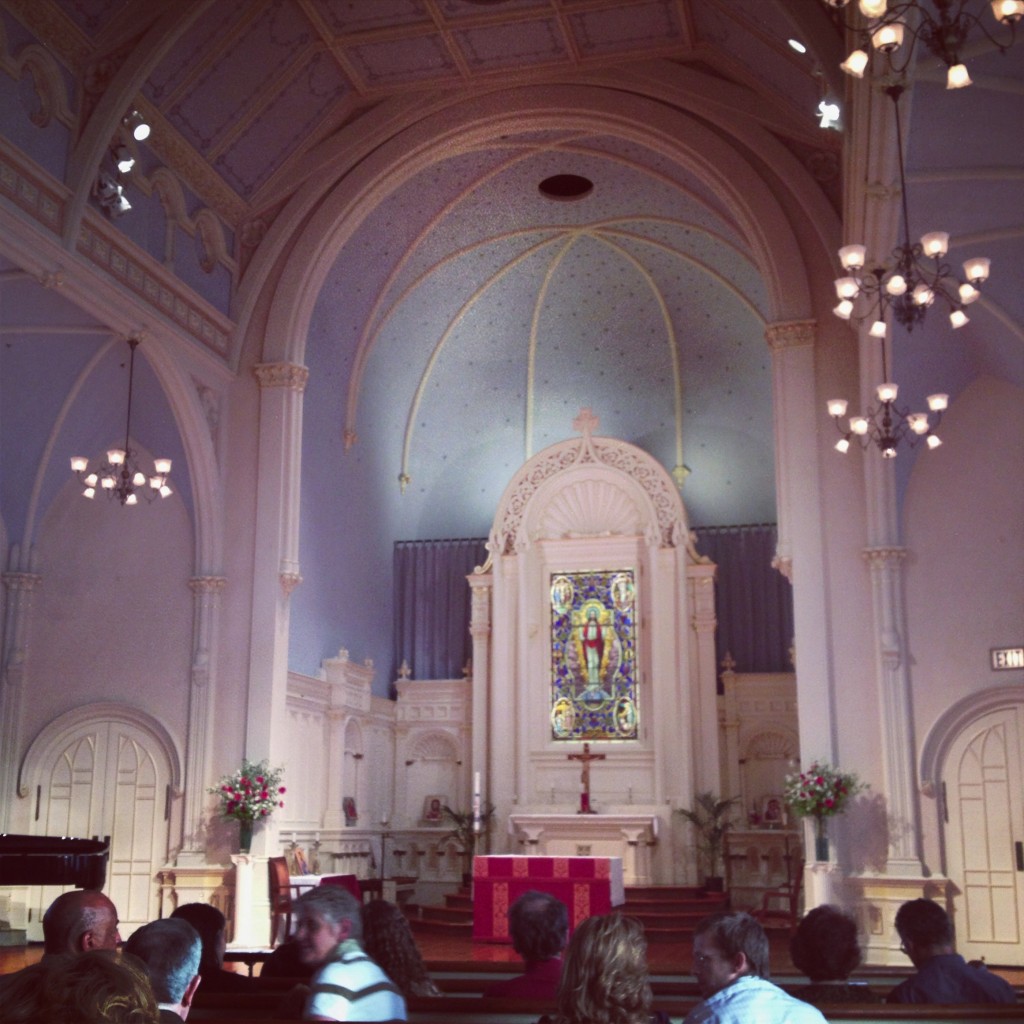 On the drive back to the East Bay we took our cue from the blissed-out doberman in the back of an olive green Oldsmobile convertible just ahead of us and opened the sunroof to enjoy a rare warm day in the city. Back over the bridge we headed up to our own church congregation's spring potluck.  We gathered in a small gymnasium in the meeting house next to the Oakland LDS temple, sampling Doug & Pam's kale salad,  Ernie's Peruvian potatoes and Marion's banana cake under the basketball hoops.  I brought along some tasty apricot tea cakes made from a recipe that had shown up in my mailbox (Bon Appetit) that day.  There was no musical program that night, but a sweet chorus of fellowship accompanied us to the parking lot as we headed home.
Some pilgrims journey many miles to find their God and each other.  I'm grateful my mecca is so close at hand.