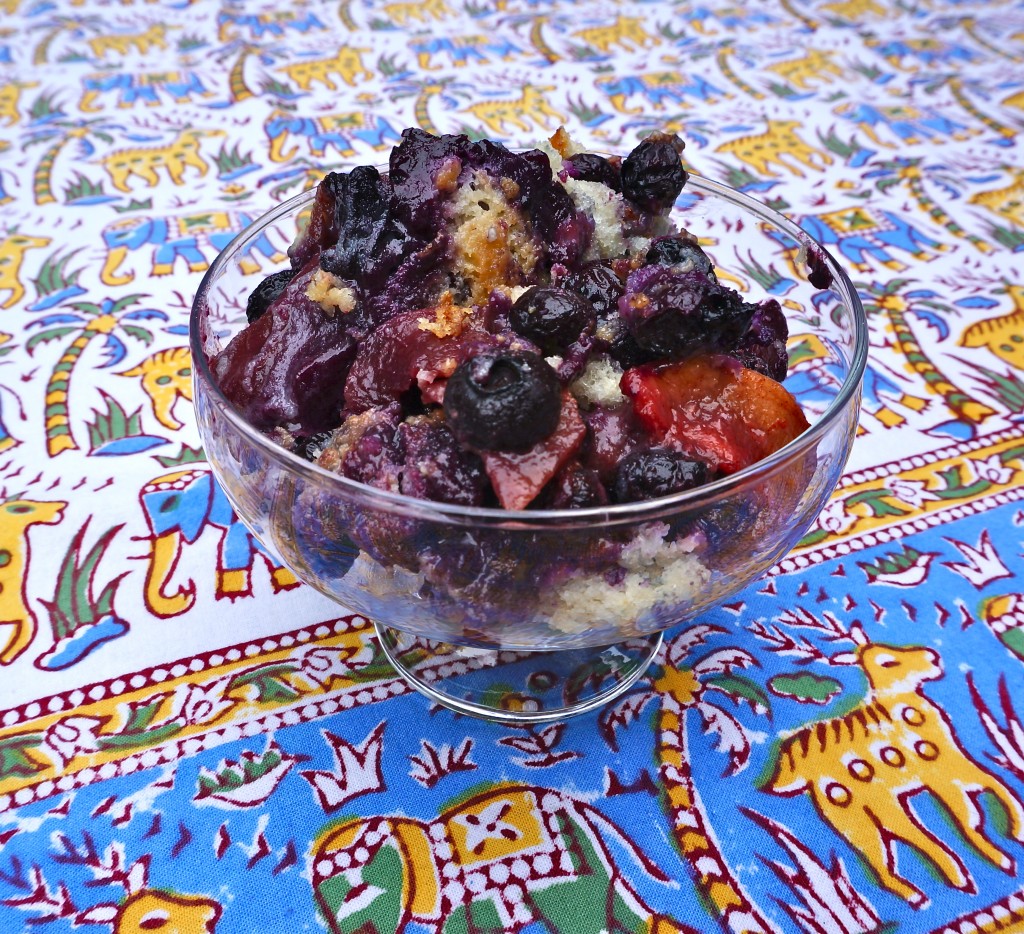 I don't know about you, but after I've been on the road awhile I crave getting back into the kitchen. Too many treats and too many meals on the fly have me wanting to make something familiar, preferably something that emphasizes fruits and vegetables.  So over the past few days since we returned home I've made some vegetable-tofu curry,  stewed garlic lentils with walnut cream sauce and a killer blueberry nectarine cobbler.  In lieu of my usual Friday Things Considered recommendations this week – no time to peruse my Feedly feed while I was gone  - I'm passing along two recipes.  One is the quick & easy cobbler taken from the Oakland-East Bay Junior League's cookbook California Fresh Harvest. And the other is my mom's recipe for new peas and potatoes. We enjoyed several batches of this spud country side dish while we were in Idaho. Comfort food of the first order!
Blueberry Nectarine Cobbler
Batter
1/2 cup (1 stick) butter, melted
1 cup sugar
1 1/2 cups flour
1 tablespoon baking powder
1/2 teaspoon salt
1 cup milk
Fruit Filling
3 cups fresh blueberries
2 cups sliced, peeled nectarines
2 teaspoons fresh lemon juice
1 1/2 teaspoons cinnamon
1/4 cup sugar
Preheat the oven to 350 degrees.  Pour the batter into a shallow 2-quart baking dish, tilting the dish to coat the bottom evenly.  Combine 1 cup sugar, flour, baking powder, and salt in a bowl and mix well.  Add the milk, stirring just until blended; the batter will be lumpy.  Pour into the prepared dish; do not stir.
For the filling, toss the blueberries and nectarines with the lemon juice and cinnamon in a bowl until coated.  Arrange the fruit over the batter.  Sprinkle wiht 1/4 cup sugar; do not stir. Bake for 40-45 minutes or until golden brown.  Serve warm with vanilla ice cream.  Serves 6-8.
Portia's New Peas and Potatoes
New potatoes
Butter
Flour
Milk
Minced dry or fresh onion
Peas, fresh or frozen
This is best made with new potatoes that are still sweet.  Boil whole if the potatoes are small or cut into small pieces and boil until not crunchy.  In the meantime make a white sauce with butter, flour, minced onion and milk.  Add peas just at the end.
Enjoy!