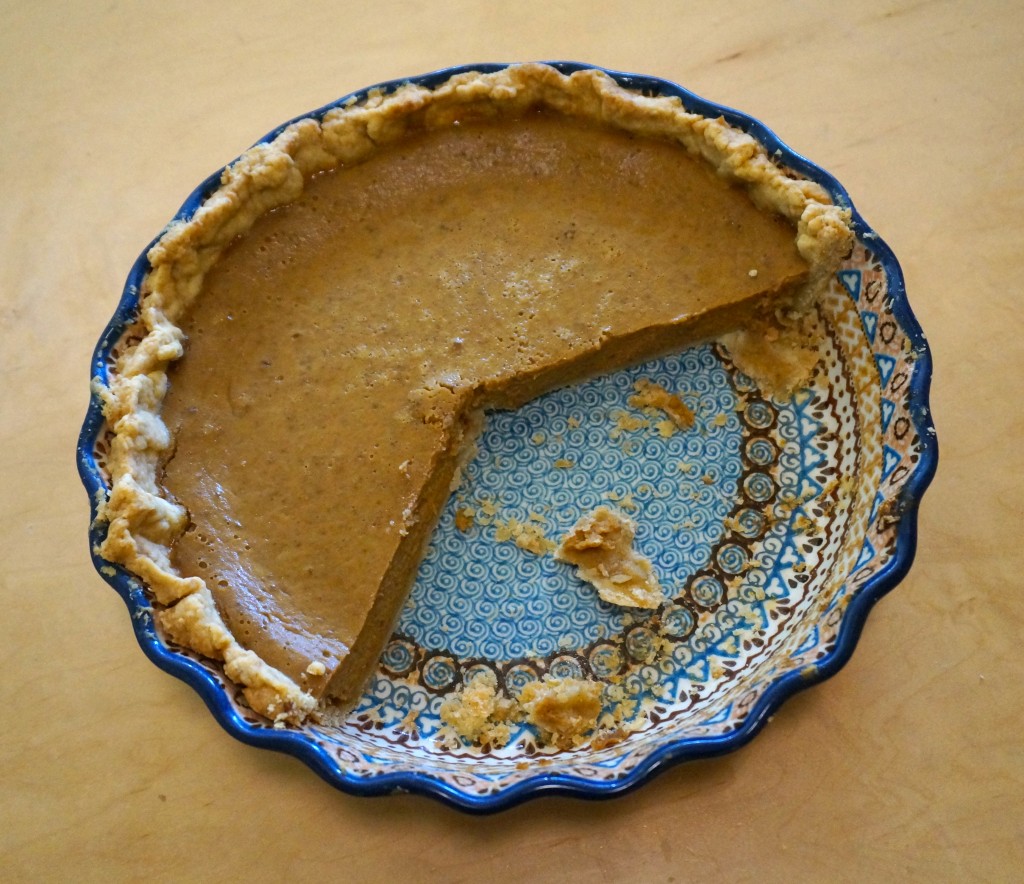 For years, I wrestled with pie-making.  I've been the designated pie maker ever since we started traveling to the Monterey Peninsula for Thanksgiving and until a few years ago it was mostly a failure experience.
A confident and experienced cook, I was baffled that pie crusts Would Not Cooperate. I played by the rules—chilling the butter or shortening (depending on the recipe), cutting it into the flour until it was the recommended consistency of peas, sometimes by hand, sometimes with a food processor (again, depending on the recipe) and sprinkling just enough ice water over the dry ingredients to bind everything together.
Invariably, when I would attempt to roll out the chilled dough ball, it would crumble into a mass of broken bits on my well-floured surface. I tried different rolling pins and surfaces—but to no avail. Instead of a single, malleable blanket of pie dough I always ended up with a Frankenstein patchwork that barely held together.  Thank goodness by the time dessert rolled around the guests were all too full and sleepy to care that the pie crusts were homemade but ho-hum.
Then two things happened.  First, I cut the shortening/butter in finer—to the consistency of coarse sand, not peas.  And, second, I found the Just Right Pie Crust recipe.   Using a mix of butter and shortening blended in a food processor, the recipe is basic but reliable. Meant for a strawberry-rhubarb pie, it still plays nicely with pumpkin and pecan and cranberry fillings.  So, friends, on this Thanksgiving Eve, I give you my favorite pie crust recipe.  Go forth and conquer your pie-making and remember that your crusts should still look a little misshapen.  Because who would want a perfect pie crust? That's available in any supermarket freezer.
Just Right Pie Crust
(adapted from a Bon Appetit recipe for Lattice-Topped Strawberry-Rhubarb Pie April 1997–makes enough dough for two 9″ pies)
3 cups all purpose flour
2 1/2 teaspoons sugar
3/4 teaspoon salt
2/3 cup chilled solid vegetable shortening, cut into pieces
1/2 cup plus 2 tablespoons (1 1/4 sticks) chilled unsalted butter, cut into pieces
10 tablespoons (about) ice water
Combine flour sugar and salt in processor.  Using on/off turns, cut in shortening and butter until coarse meal forms.  Blend in enough ice water 2 tablespoons at a time to form moist clumps.  Gather dough into ball; cut in half.  Flatten each half into disk.  Wrap separately in plastic; refrigerate until firm, about 1 hour.*  (Can be made 1 day ahead.  Keep chilled.  Let dough soften slightly at room temperature before rolling.)
* When you've successfully, happily, easily put those pie dough balls into the freezer to chill, take a moment to chill yourself and read this smart essay on how to be a good host (surprise–it's not about the food!)