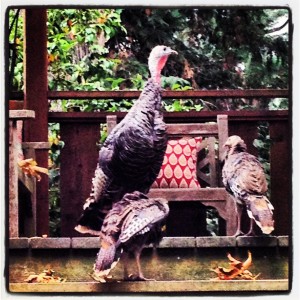 A few weeks ago I walked out my front door and ran into seven wild turkeys pecking at hidden treasures in the long grass on the banks of our front creek. Mindless of me, three of them marched up the porch steps to stand at my front door as though they expected someone to let them in for a pre-Thanksgiving feast.
Wild turkeys knock-knock-knockin' at my door are not the only thing that's unusual about this Thanksgiving.  It's also the first one we'll spend without a single one of our kids at the table.  Our oldest will be with her soon-to-be-in-laws on Long Island.  Our middle will be with kind friends of family in Boston. And our son will be in Peru with fellow Mormon missionaries, probably pie-less.
"We can never go back to . . .the families we were in our prime, to the things that we had all taken for granted," writes Michael Chabon in a recent Thanksgiving essay for Bon Appetit that's been on my mind this week.
My family of origin has long since scattered to make our own Thanksgiving feasts, but when we were young we sat down with our cousins at the kids' table in my Grandparent Loosli's Idaho farm kitchen.  I suppose there was turkey and certainly mashed potatoes newly harvested from the fields on the menu, but the things that stand out in memory are my grandmother's mustard pickles and the pineapple ice cream my grandfather would make with our help cranking the ice cream maker, often using an early snowfall to freeze the tangy concoction.
After dinner we'd retreat to the basement and play "spaceship" with an antique wireless radio, twisting its mysterious knobs to calibrate our ascent to somewhere beyond the musty room filled with old National Geographic magazines and discarded gray-skinned dolls.  Eventually, my uncle Bart would bellow for my cousin Arnold to stop messin' around and tell him and his older brother Garth to come quick if they knew what was good for them because they were heading home.
Deprived of our holiday playmates, my younger siblings would scatter to find other amusements while I picked up a library copy of "Moby Dick" and hid in a dimly-lit coat closet to read until my parents called us to go home as well.
My own children spent most of their Thanksgivings on the Monterey Peninsula with our friend Pauline (she of the Big Foot Apple Pies) in a beautiful Carmel beach house that her parents had always rented for the week.  The setting was gorgeous but the kitchen was too small for more than one person to easily navigate.  To free up precious oven space, Pauline worked out a way to cook the turkey in an electric roasting pan out on the stone patio and we all learned to do-si-do in order to create the rest of the meal, including her mother Bernice's beloved Waldorf Salad.
Though Pauline and her siblings did most of the cooking, Bernice was the commander-in-chief insisting that we shake off the sand from our beach walks and dress for dinner.  She also expected that we "sing for our supper" either with an actual song or by sharing a poem after the main meal had been cleared from the elegant table lined with dozens of brass candlesticks she'd collected over the years.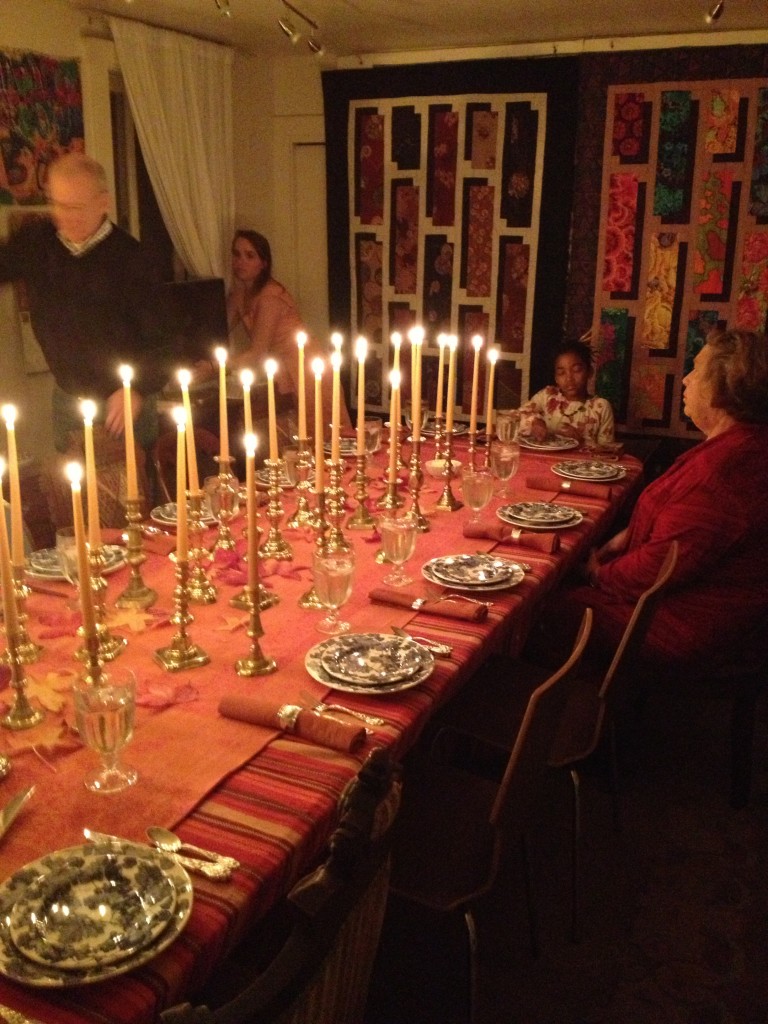 Bernice has since passed away and the tradition of poetry reading before pie went with her.  Last year Uncle Bart died from Parkinson's disease, hopefully at peace knowing that rascally Arnold turned out to be a respectable accountant with a passion for water-skiing. And my grandparents have long since left us bereft of their homemade pickles and ice cream.
"And that, to me, is the meaning of Thanksgiving. Of all the Thanksgivings before. . . Nothing lasts; everything changes. People die, and marriages dissolve, and friendships fade, and families fall apart, whether or not we appreciate them; whether or not we give thanks every waking moment or one night a year."
Pauline has since moved to Pacific Grove where she hangs inflatable turkeys from the trees in her front yard (see today's front page photo of the Monterey Herald.)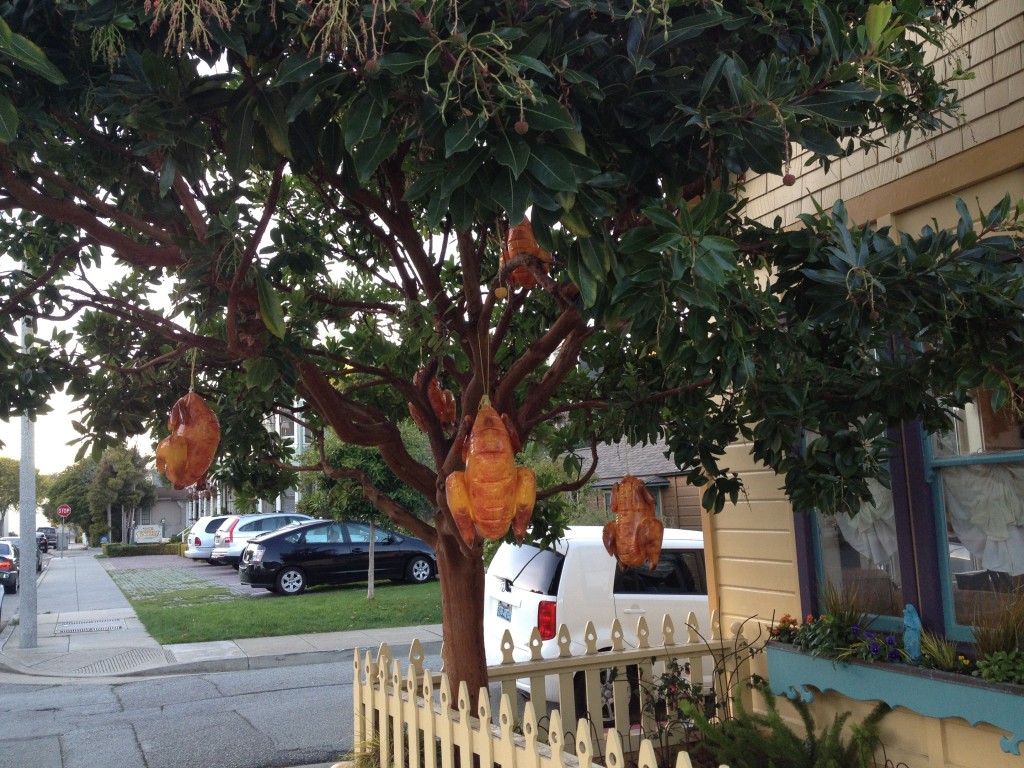 And dresses her pugs in pilgrim costumes.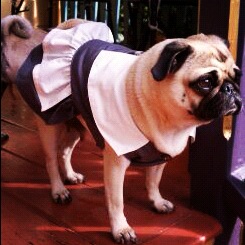 Giving my kids permission to sport their own goofy Thanksgiving headdresses when they were teens.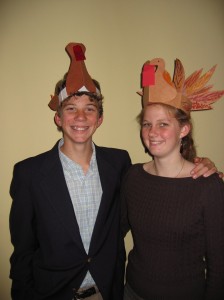 Tomorrow we'll drive down just the two of us to join Pauline and Anthony and their daughters and the pugs for another Thanksgiving, bearing pumpkin and pecan pies as well as the makings for Waldorf Salad. It will seem a little empty not to have at least one of our kids there stirring the garlic carrots and helping cut out dinner rolls in the shape of whales. But given Pauline's gregarious nature, there will undoubtedly be strangers filling their seats, bringing new-to-us dishes that were once part of someone else's family's tradition.
"And so this year, let's go somewhere with strange customs and unfamiliar recipes and the latest collection of ill-assorted chairs, and give thanks–not for everything we have, but for everything, instead, that we have lost."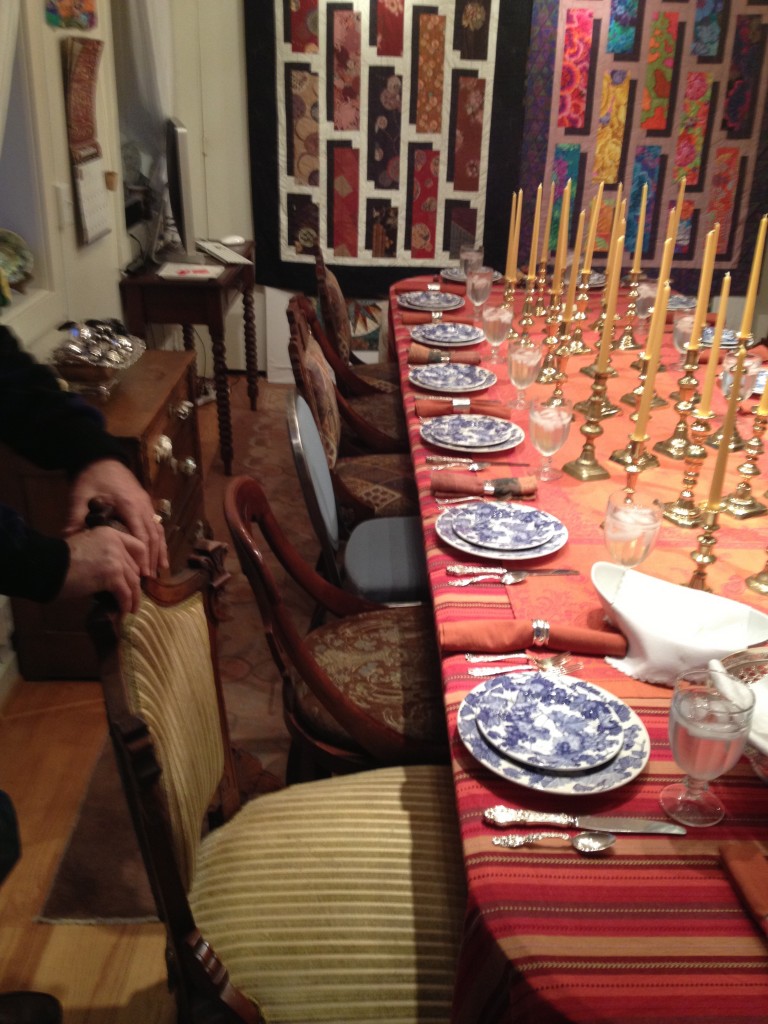 Thankfully, there will be still be old friends sitting around a table illuminated with dozens of brass candlesticks grateful for all the years we've had together. We'll share stories of the year spent apart.  I'll tell them about how my cousin and former copilot Garth danced at my daughter's wedding last summer and about the wild turkeys that came calling at my door just last month. At the end of the night, before I turn off my bedside light, I'll read from the book of poems I bring with me every year.  Bernice would want it that way.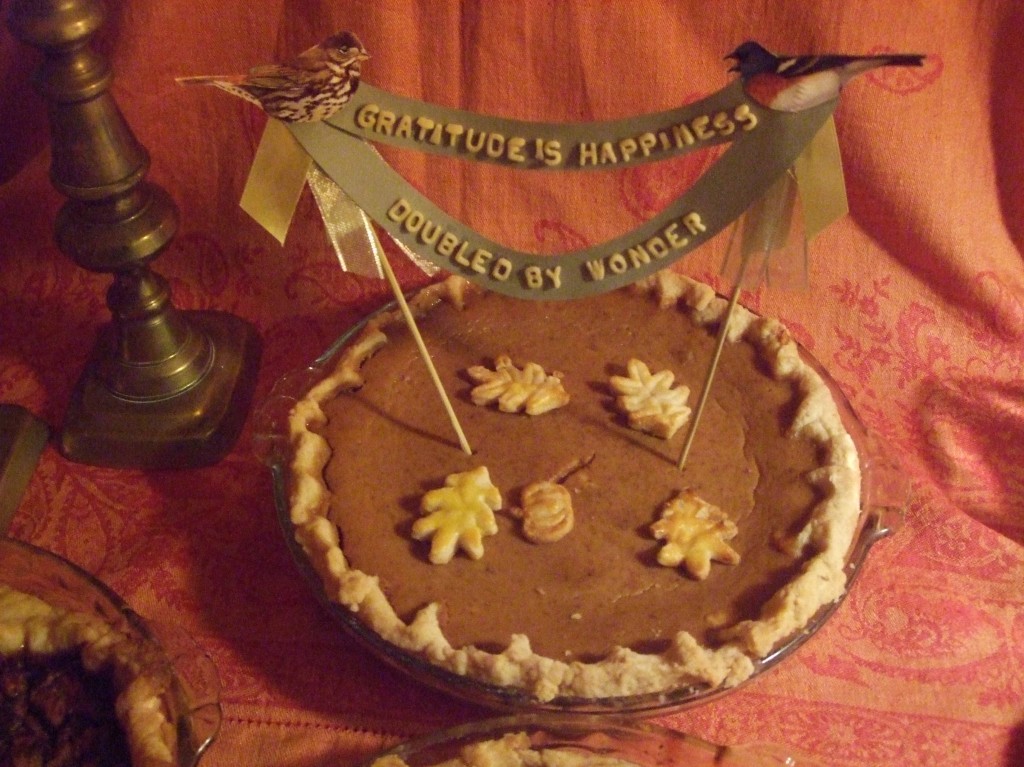 Waldorf Salad
(taken from the Fanny Farmer Cookbook by Marion Cunningham)
2 firm ripe green apples
1 firm ripe red apple
1 tablespoon lemon juice
1 cup sliced celery
1/2 cup coarsely chopped walnuts
1/2 cup mayonnaise
1 1/2 teaspoons honey (optional)
Core and quarter the apples (leave the skin on unless it is tough) and slice thin.  Put in a bowl and toss with the lemon juice to coat.  Add the celery and walnuts.  Cover and chill.  Mix the mayonnaise and honey (if you like a little sweetness in the dressing) together until smooth, add to the apple mixture, and toss. Serve on a bed of lettuce.