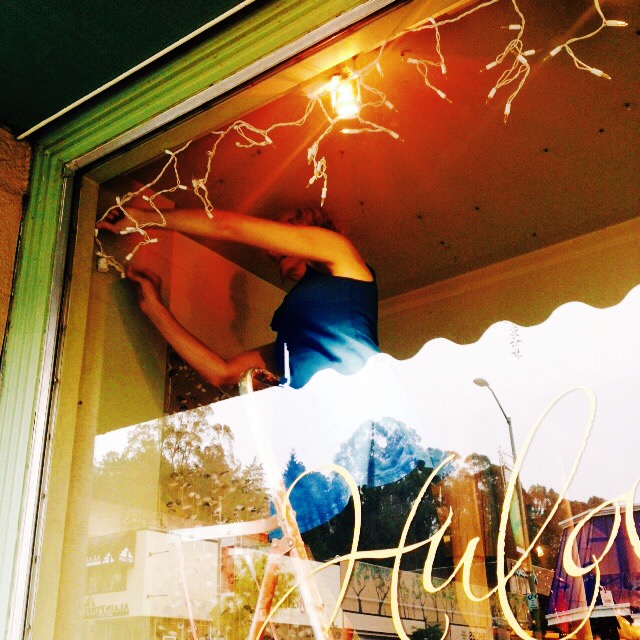 I love the early days of December when everything seems possible, don't you?
The Christmas carols that irritated me in stores two weeks ago seem festive now.   Spending time in the kitchen making artful cookies is creative fun. Dressing up to go out with friends feels like a treat. And I'm confidant that somehow all that shopping and present wrapping will happen eventually – falalalala!
As the season progresses and things inevitably don't go as planned, I'll try to remember that the best Decembers are usually the ones where I've spent more time observing and less time orchestrating.  Planning is important but I'm merrier when I focus on priorities not perfection.
Lighting up my house is pretty much at the top of my seasonal decorating list. So I'm looking forward to picking out a tree for our new place this weekend—tall and skinny should do the trick—and experimenting with outdoor light hooks specifically designed for flat roofs (rare in this land of peaked-roof Victorians.)
In the next few weeks we'll be setting up a "glamping" tent to help house all our kids when they come home for Christmas.  I'll share that temporary guest room with you as it evolves, but in the meantime here are some other things that lit up my early December:
A year later, some thoughts on Frozen – an animated musical that left me cold but took the world by storm.
A year end best book list from Maris Kreizman, the wit behind Slaughterhouse 90210.
What I'm giving my girlfriends this year–lavender shortbread wreaths, a "fancy" cookie that's easy to make, beautiful and tasty.
Some journaling exercises for reflecting back through the year from photographer and blogger Susannah Conway.
And now, just for fun (and my brother Joel) – a new Christmas classic by the Killers and Jimmy Kimmel : "Joel, the Lump of Coal."
Happy Weekend All!