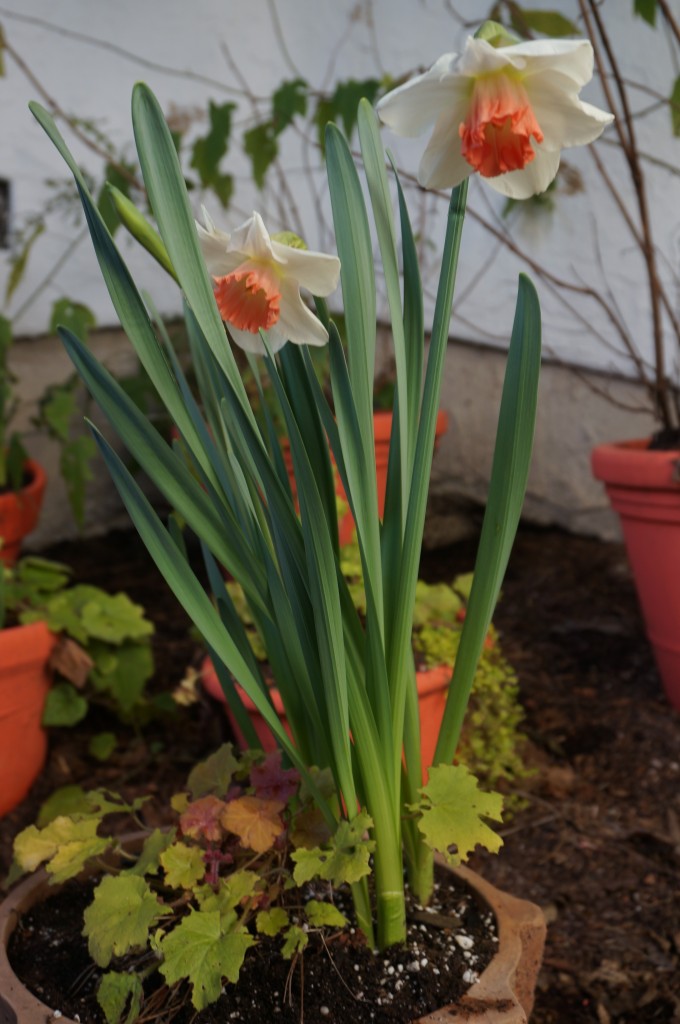 This weekend I'll be celebrating Easter with family and friends.  We should have a break in the rain which means there will be a chance to point out the pink dogwood and white wisteria in bloom.  Alas, the five hundred daffodils we planted in December are almost gone.  I'm sorry they won't be here to trumpet the triumph of spring.  But they'll be back I'm told.  That's the beauty of daffodils.
Also, deer don't like them.  They don't appeal to gophers.  And the foxes and wild turkeys seem to leave them alone as well. Which means they're perfect for our garden on the edge of open space.  We planted eleven different varieties of daffodils  (poets would call some jonquils, others paper whites or narcissus)–specifically Avalanche, Barrett Browning, Carlton, Cornish King, Ice Follies, Las Vegas, Ma Bell, Merels Favourite, Pink Charm, Pipet, and Thalia. They all had staggered bloom times.  But on those weeks where they were pretty much all in bloom, every time I opened the front door it felt like I was being serenaded with the Hallelujah Chorus.  (Did you know that Handel's "Messiah" was originally performed in April?)
Daffodils belong to the genus narcissus which gets its name from the Greek god Narcissus.  According to legend, Narcissus was so taken with the image of himself as he gazed into a river that he drowned trying to capture his reflection.  The reflected image of daffodils growing along stream banks inspired the association with Narcissus.
We planted them along the dry stream bed in our garden where except for a few exceptionally rainy days no treacherous reflections are cast.  We planted them on a sunny day in December when my family had just started to gather for Christmas.  Though the sun was out it was still cold and it took some gumption to get out there and plant All Those Bulbs (we put 100 tulip bulbs in the back pots safely out of reach from the deer as well.) But once we got started the work was pretty easy and fun.  And boy was there a big payoff.  I'm thinking this will be an annual Christmas tradition.  Some daffodils will return but to ensure we always have plenty I'll want to plant more.
Here you can see our daughter Claire planting daffodils  (now that they've bloomed, I'm thinking the elegant white on white Thalia?) near the leafless variegated dogwood draped with Christmas garland.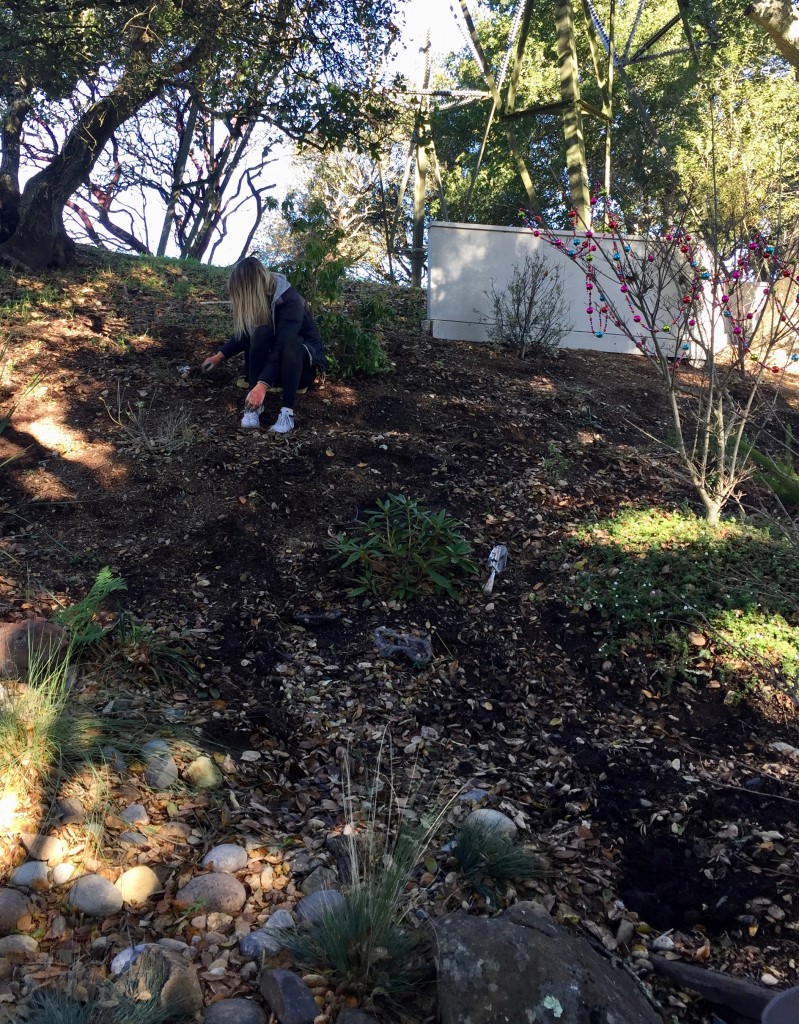 And here's the rest of the planting crew — our pregnant daughter-in-law Lori, Claire, landscaper Keeyla Meadows, son Will and M.J. Right after we planted the bulbs we scurried off to a matinee performance of The Christmas Revels that happened to feature a daffodil as a magical symbol of healing and rebirth!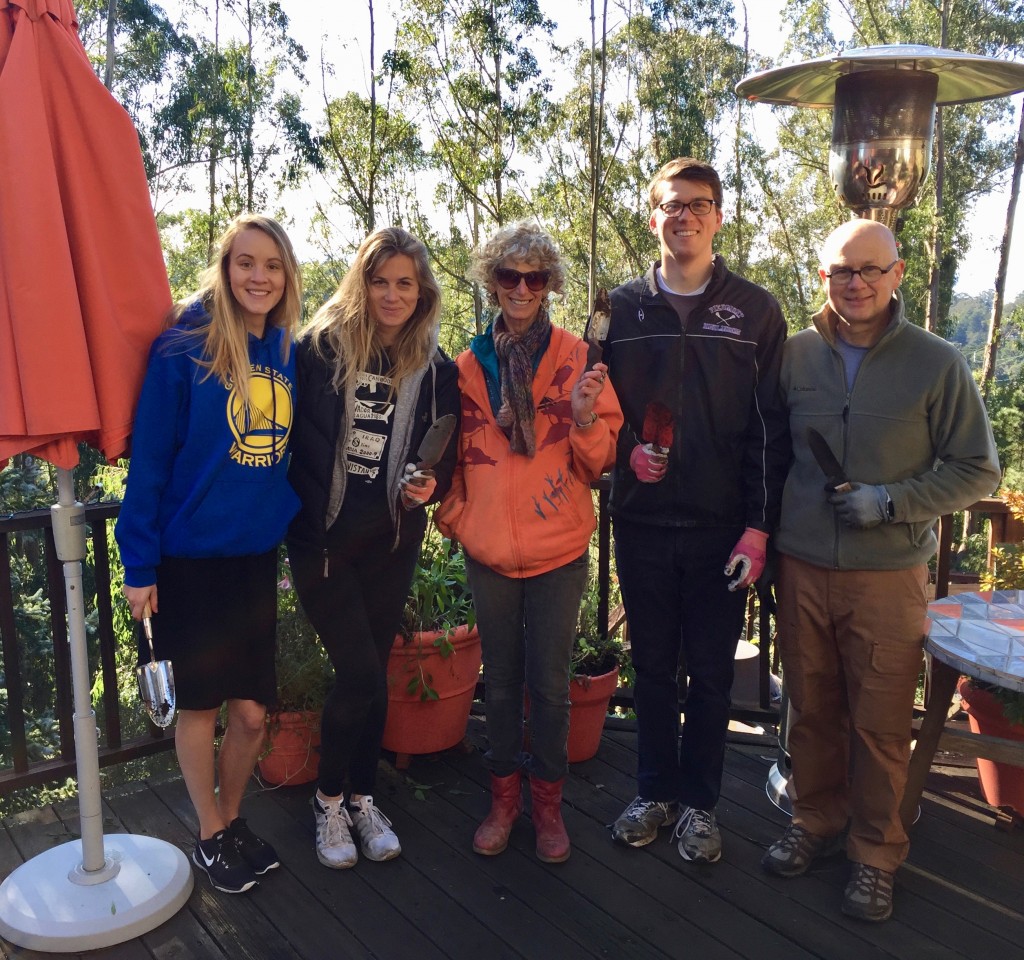 It's an act of faith to plant anything but especially homely little bulbs in the dead of winter.  But look what our faith hath wrought!
Predominantly white daffodils surround the dry creek above.  Here's another shot with Lori–by March her pregnancy was very much in bloom!
Yellow on yellow daffodils like Las Vegas and Carlton are clustered near other yellow foliage on the dry creek side of the driveway.
On the other side of the driveway, Pink Charm daffodils fill in the side garden (and some of the painted pots in the back, see above)  which tends to have pink and red blooming flowers during the summer. A signal of what's to come.
Some of the first to bloom were the orange centered Barrett Browning daffodils near the open space. Named after poets Elizabeth Barrett and Robert Browning, these were some of my favorites.
Delicate little Pipets bloomed later in the pots by the front door.  Their color coordinated nicely with the new green foliage on the potted maples.
Happy Weekend All!