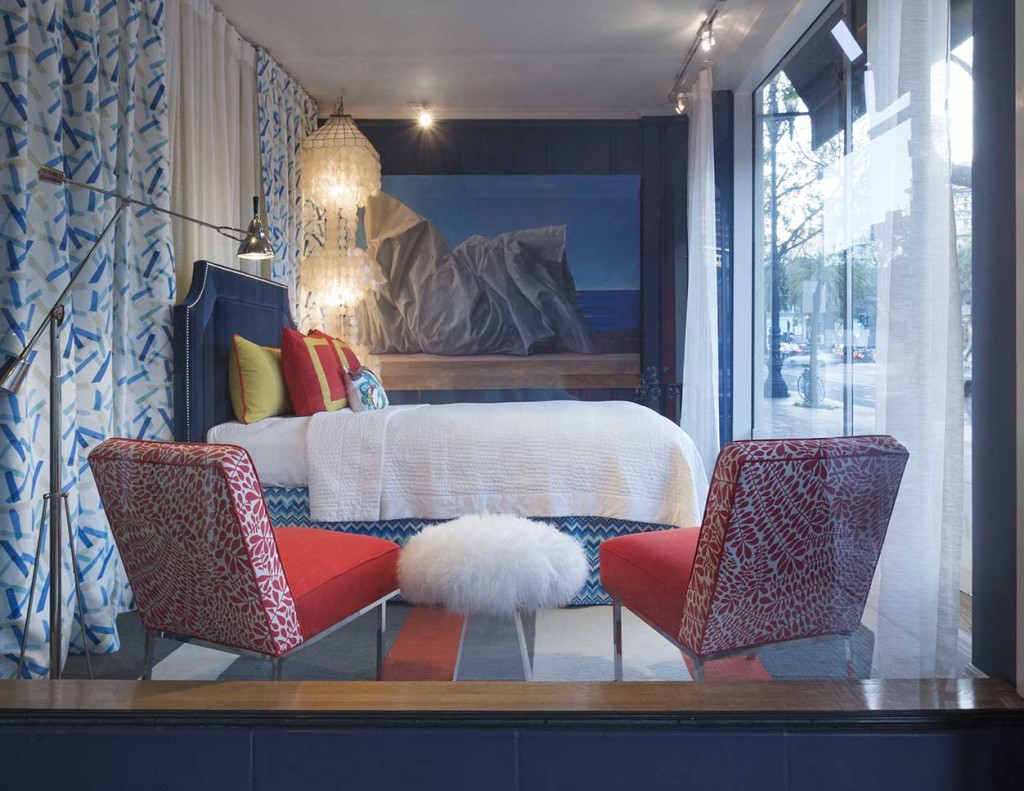 San Francisco's McRosky Mattress Company has been promising a good night's sleep to their customers for 115 years.  Recently, they asked designer Brian Dittmar to create an eye-opening bedscape for their Market Street store window.
"With Twitter and other tech innovators nearby, they wanted something that would attract the younger crowd that's rejuvenating this area of San Francisco," says Dittmar.
Dittmar started with a lively Jonathan Adler print as the backdrop for the whole design. Then he designed a custom headboard to accommodate the queen set mattress from McRoskey's Classic line and created a seating area featuring 1950s Knoll chairs upholstered in a Trina Turk floral print and a 1970s Lucite ottoman topped with a shaggy Mongolian lambskin cushion. A large-scale painting of a stylized pillow by contemporary realist Jay Mercado hangs nearby.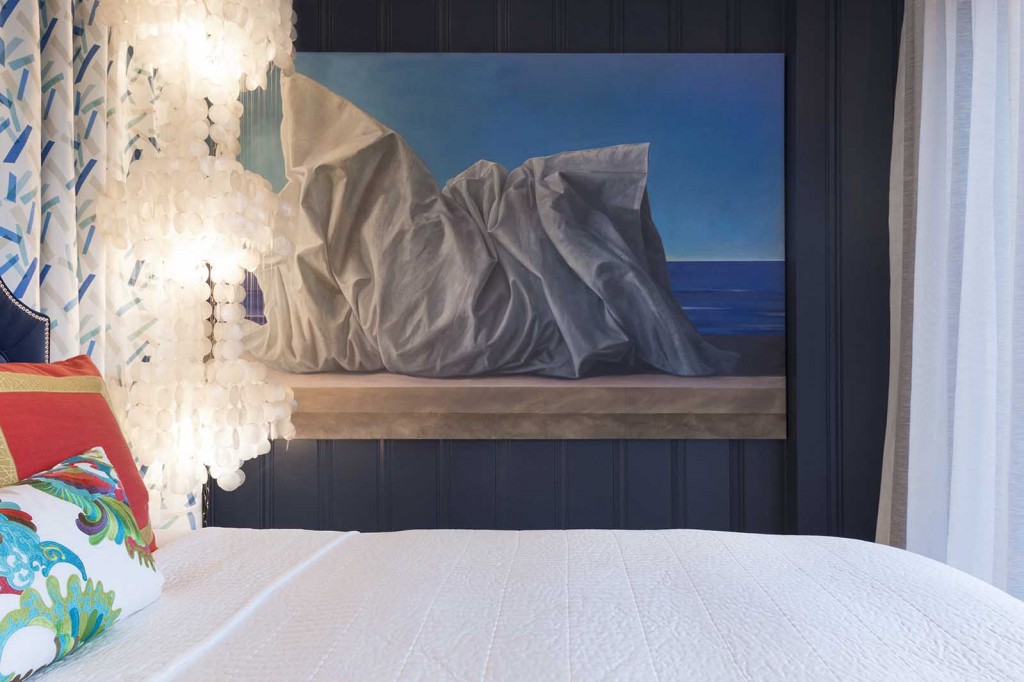 The headboard, chairs, draperies and bedspread use to-the-trade fabrics from Kravet but many of the other items in the room are available from retailers.  For example the striped carpet is from Flor and the chairs and ottoman are from Stuff, a local antique collective.  Dittmar repurposed a lambskin pillow from West Elm for the ottoman cover and found the embroidered Trina Turk bed pillow at Bed, Bath & Beyond.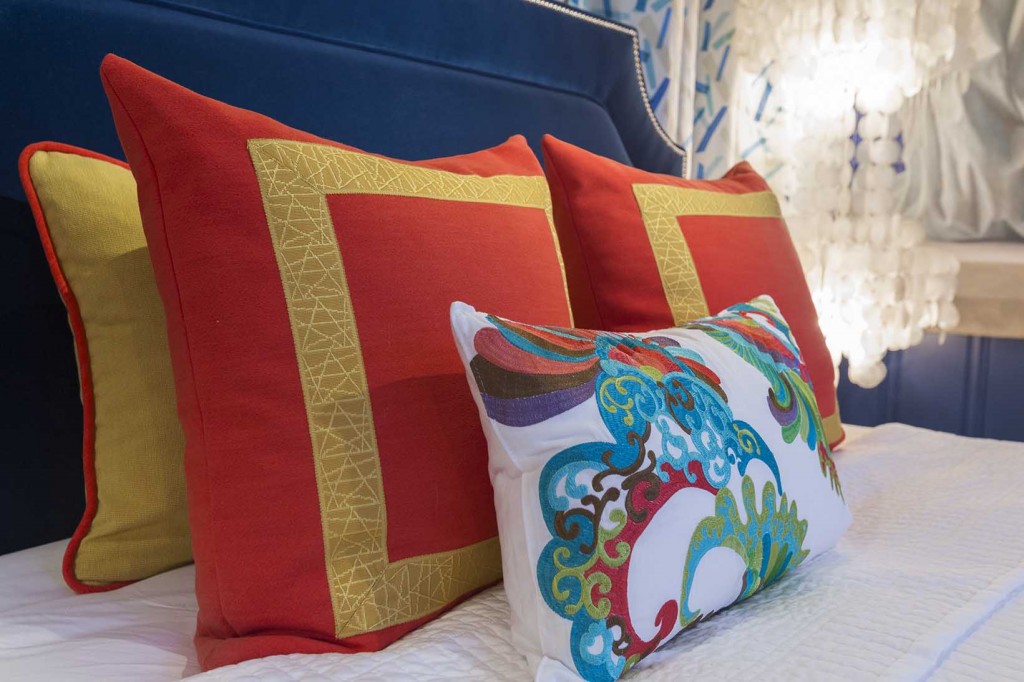 "I like a mix of high and low elements—it's a good look for any room," says Dittmar.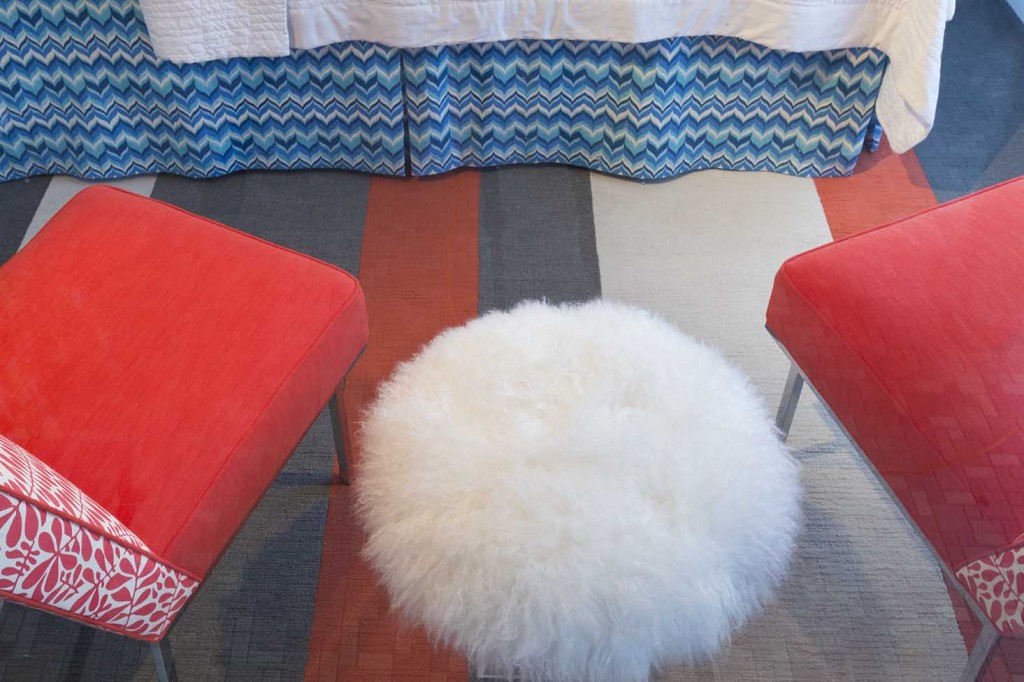 Dittmar recognizes that these colors might be a little intense—"unless you live in Palm Springs"—but says that no matter what colors or furniture you use in a bedroom, the overall goal should be to make the space comfortable.  "Whether it's bold or quiet, it should be a place you want to cocoon." Here are some other bedroom design tips from Dittmar.
The money's in the mattress (not under it):  A well-constructed mattress – whether on a box spring or a platform – and the appropriate sleep pillows provide the best foundation for good sleep.   The "top of bed" should be as luxurious as you can make it with high-thread count sheets and pillowcases and finishing touches like a coverlet and bed skirt.
Go ahead, drape the walls:  Curtains behind the bed – whether or not there is a window – give the illusion of height to a room and add a sumptuous textural layer to the space.   No need to hang art or a mirror over the bed, which is a no-no on shaky ground, as we have in California.  (Although your cat, if you have one, may find the "curtain wall" irresistible for climbing.)
Cozy to the touch:  Fabrics like linen, wool, cotton sateen, silk, nubby bouclé and textural matelassé's as well as faux – whether fur, leather or animal hides – for curtains, upholstery and bedding help create a cocoon, while a rug, carpet or even carpet tiles provide a sturdy yet soft feel underfoot.
Hue are you:  Color can convey your personality, creating a familiar and relaxing environment. An all-white or monochromatic environment appeals to the quiet types, while a bold and bright color palette suits someone with high energy.
One night stand: You don't always need a pair, and modern options can be both sculptural and functional, instead of bulky. Instead, pair a nightstand on one side of the bed with a light fixture on the other. Alternately, create a cozy seating area near the bed – a private place to escape from the main parts of the house, particularly those with open-layout plans. Or for smaller rooms, use a desk, which can do double duty as nightstand and workstation.
Art as a sleep aid: Paintings with either sleep-suggestive or sleep-literal themes–such as a pillow painting–can help relax the body and mind.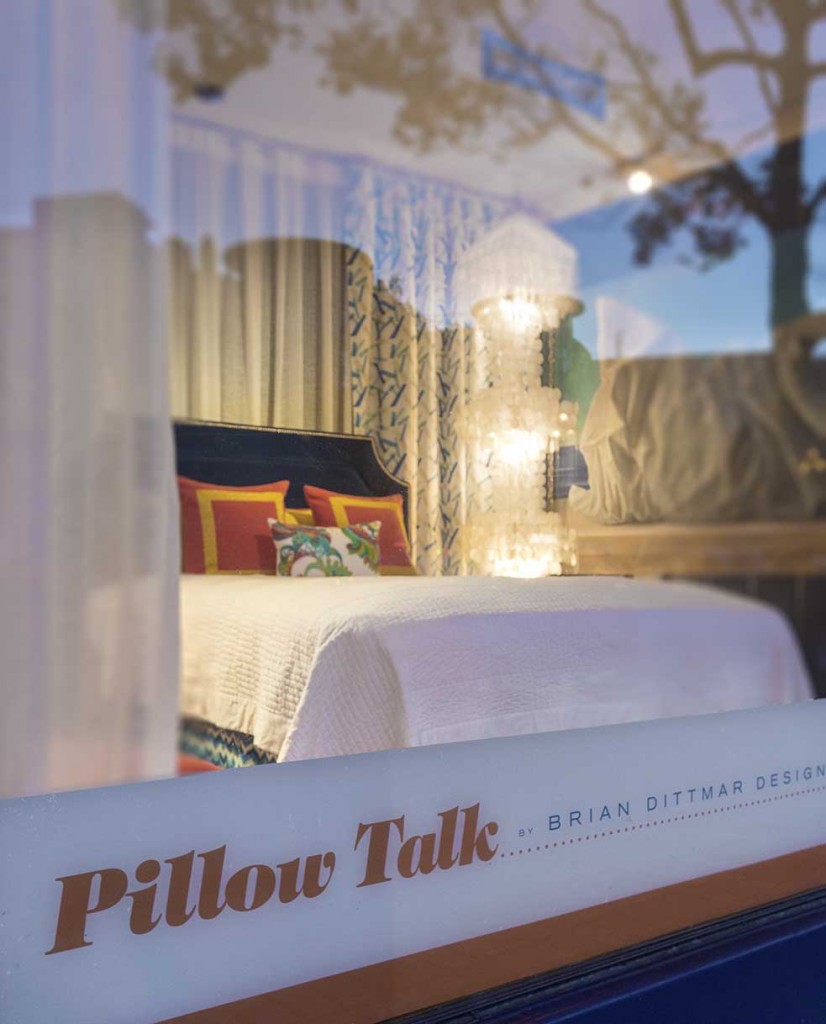 Images by David Duncan Livingston