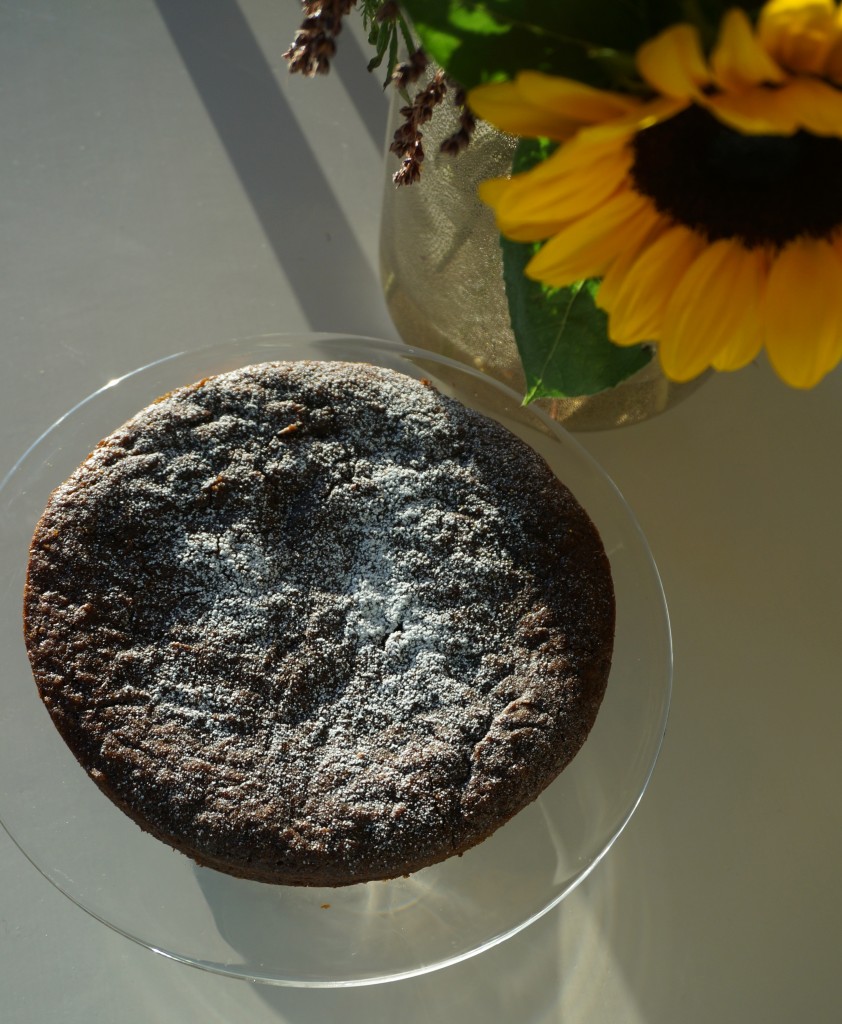 We were lucky enough to have old friends over for Saturday lunch.  The wife is undergoing treatment for a brain tumor and after nine months of procedures is just now taking short trips out and about.  Longtime friends, we used to camp and hike together when our children were little. Now I worried she wouldn't be able to make the seven steps down from the driveway to our dining table.
Ever the trooper, she did just fine.  We celebrated the grown-up developments in our childrens' lives and swore at the too-young-to-be-facing-this direction her life has taken.
I chose to keep the food simple and ready to eat the minute they arrived in order to make the most of her limited energy reserves.  Using the eggplant and tomatoes from our weekly CSA box, I made a quiche (remember those?) that could be served at room temperature and some vinaigrette to dress a green salad.  Good bread from a local bakery rounded out the meal.
Talking over the menu with M.J. beforehand I suggested a chocolate cake but he thought that seemed like a "supper" cake not a lunch cake.  I think chocolate cake is pretty much appropriate for any meal—including breakfast—but I continued to look through recipes and settled on a favorite gingerbread from Christmas Gifts from the Kitchen by Northern California-based cookbook author Georgeanne Brennan.
The cake features three types of ginger—powdered, fresh and crystalized–and is made with apple juice, sunflower oil and no eggs so it could be used for a vegan meal as well. It has a wonderful flavor with a modern zing from the fresh and crystalized ginger.  For Saturday I decided to make some homemade applesauce to accompany the cake.  So good together.
Here's the gingerbread recipe in case you too want to celebrate life in all its complexity with a lunch cake.
Triple-Ginger Gingerbread
Makes 2 Gingerbreads
1 cup apple juice or water, heated
1/2 cup dark molasses
2 tablespoons cider vinegar
2 tablespoons chopped crystallized giner
1 tablespoon peeled and grated fresh ginger
3 cups all-purpose flour
1 cup firmly packed brown sugar
2 teaspoons ground ginger
2 teaspoons baking soda
1/2 teaspoon salt
2/3 cup sunflower oil
Confectioners' (icing) sugar for dusting
Preheat oven to 350 degrees.  Grease two 8 by 2 inch round cake pans.  (I only have 9 inch and they turn out just fine—cook for the same amount of time.) In a bowl, whisk together the apple juice, molasses, vinegar, crystallized ginger, and fresh ginger.  In a large bowl, sift together the flour, brown sugar, ground ginger, baking soda, and salt.  Make a well in the center of the flour mixture.  Pour in the oil and the molasses mixture and combine with a rubber spatula just until blended.
Divide the batter evenly between the prepared pans and smooth the tops.  Bake until a toothpick inserted in the center comes out clean, about 30 minutes.  Let cool completely in the pans on wire racks.  Turn out the gingerbreads onto the racks and sift confectioners' sugar over the top.