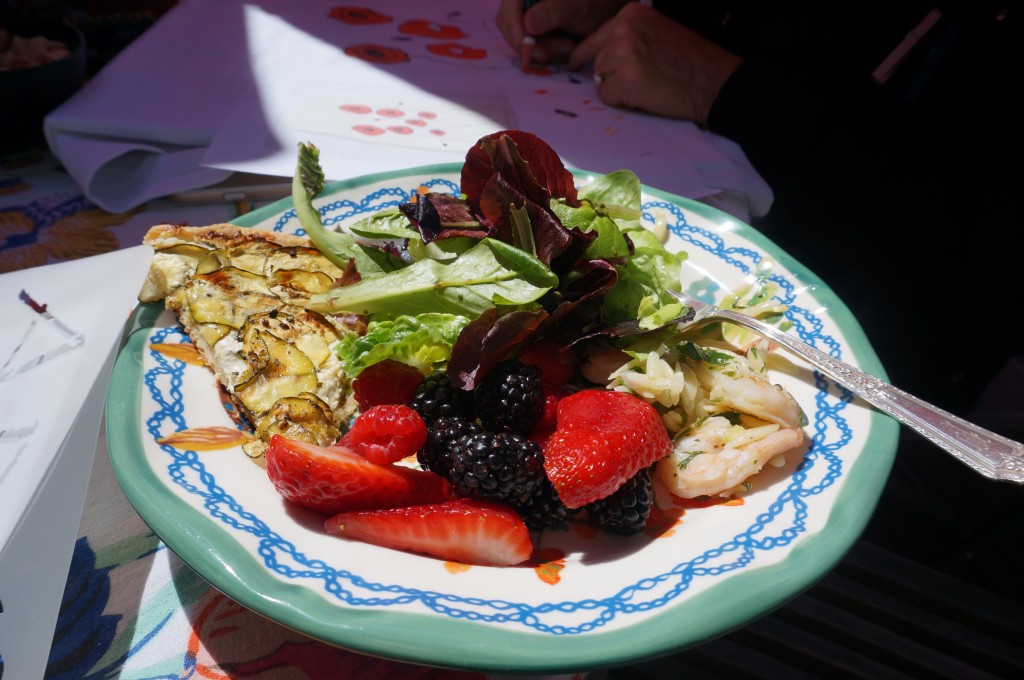 My oh my, it's June already.  As Chaucer would say, Summer is A-Comin In!  This is one of my favorite times to entertain since the weather is good and the longer days make for a more relaxed gathering.  Plus the produce this time of year is excellent so food prep can be fairly simple. This coming weekend I'm hosting a dinner for twelve visiting religion scholars (sounds like a riddle or a parable, doesn't it?) and plan on eating out on the deck.  Because I want to be engaged with our company and not tied to the kitchen or grill I'm making most of the food ahead and just assembling and plating it right before my guests arrive.   I'll likely do a combination of simple salads and a chicken dish that can be served room temperature followed by cupcakes that can be eaten here or on the run since all the guests are participating in a lecture series that night and the speakers especially may need to leave early. Basically, I'm throwing a picnic here at home.
The menu is a variation on a menu for a bridal shower I threw recently for a friend's daughter.  The numbers were nearly the same and the weather, thankfully, was good enough that we could eat outside.  It was such a fun party that I thought I'd share the recipes here in case you too are planning a summer picnic at your place.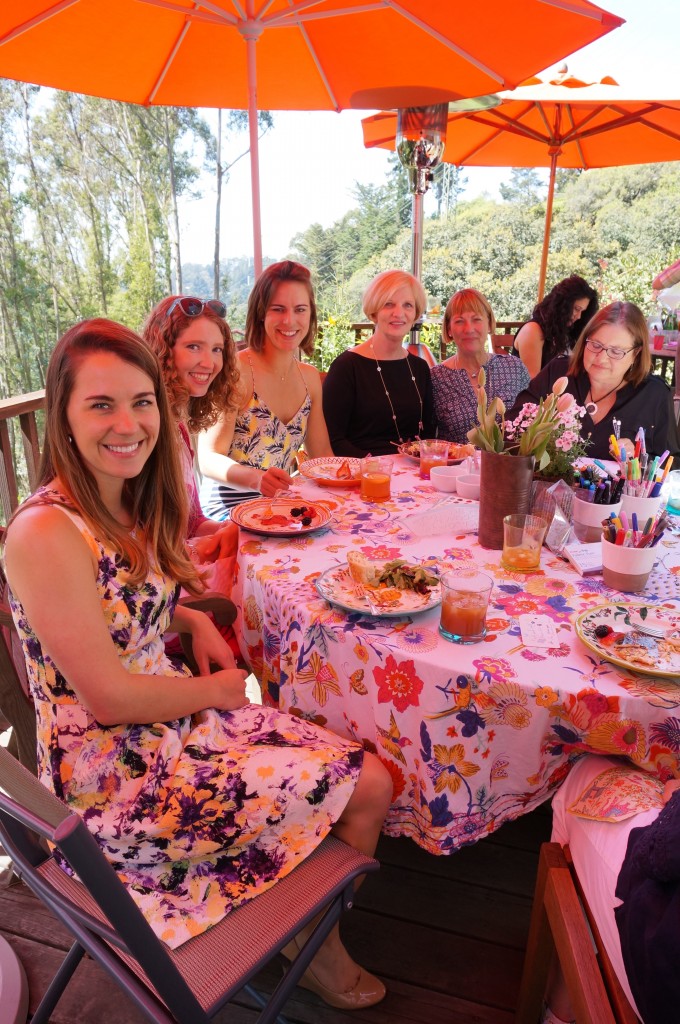 First, I wanted the food to be fool-proof so I turned to the Ina Garten's Barefoot Contessa cookbooks for recipes that were simple and reliable.   I started with a mezze platter from "Make It Ahead" that I served alongside the drinks.   All of the components were made or purchased in advance except for the pita bread triangles which were toasted at the last minute.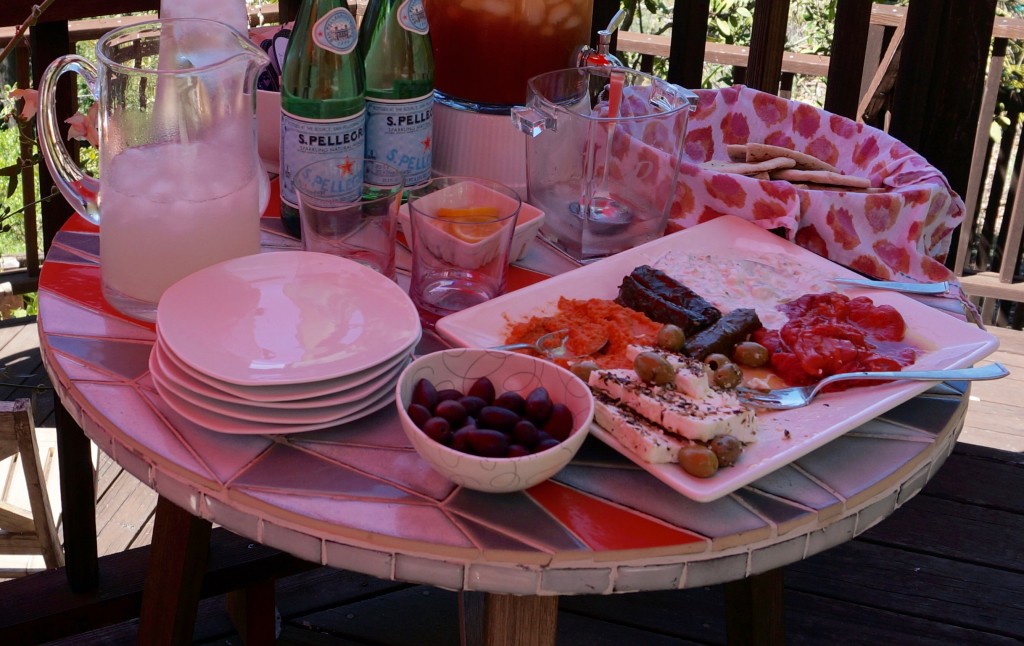 Then I followed up with a luncheon buffet featuring her Roasted Shrimp and Orzo Salad and Zucchini & Goat Cheese Tart (recipe below.)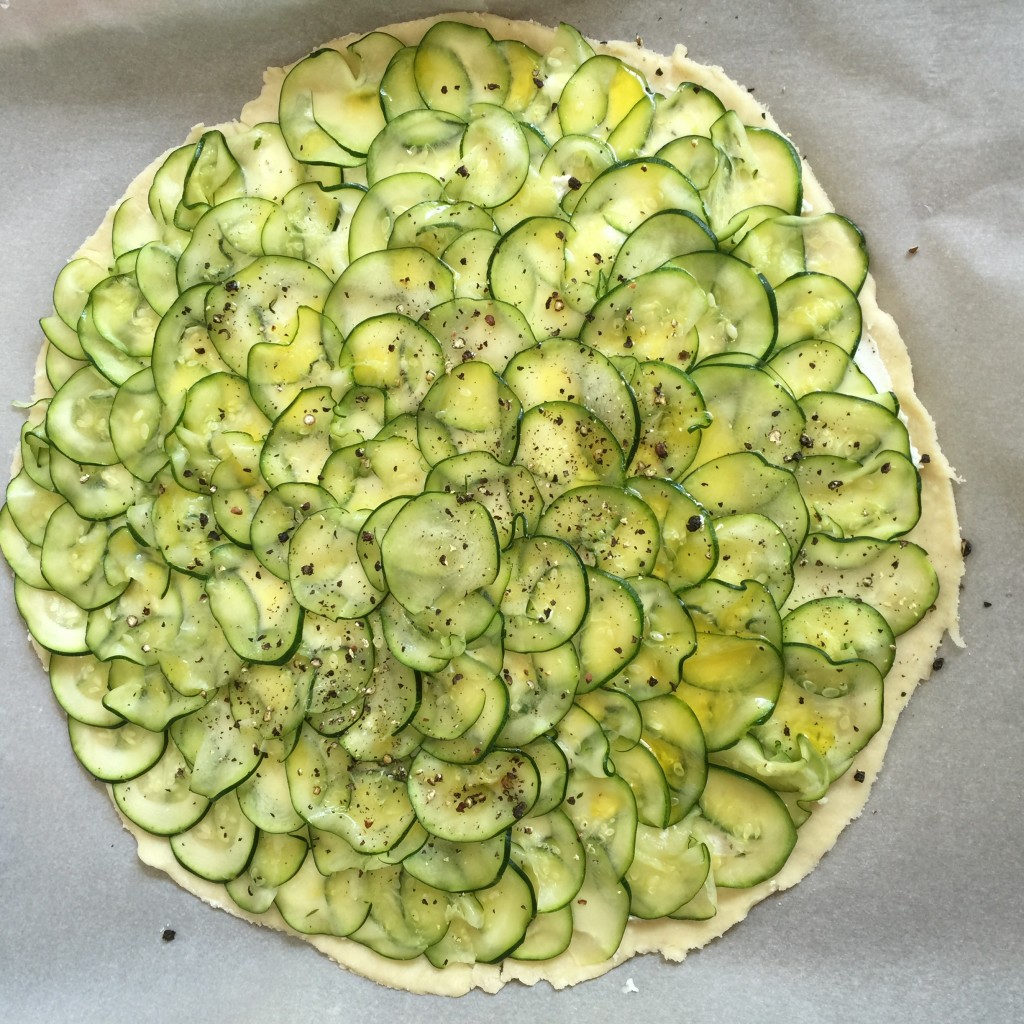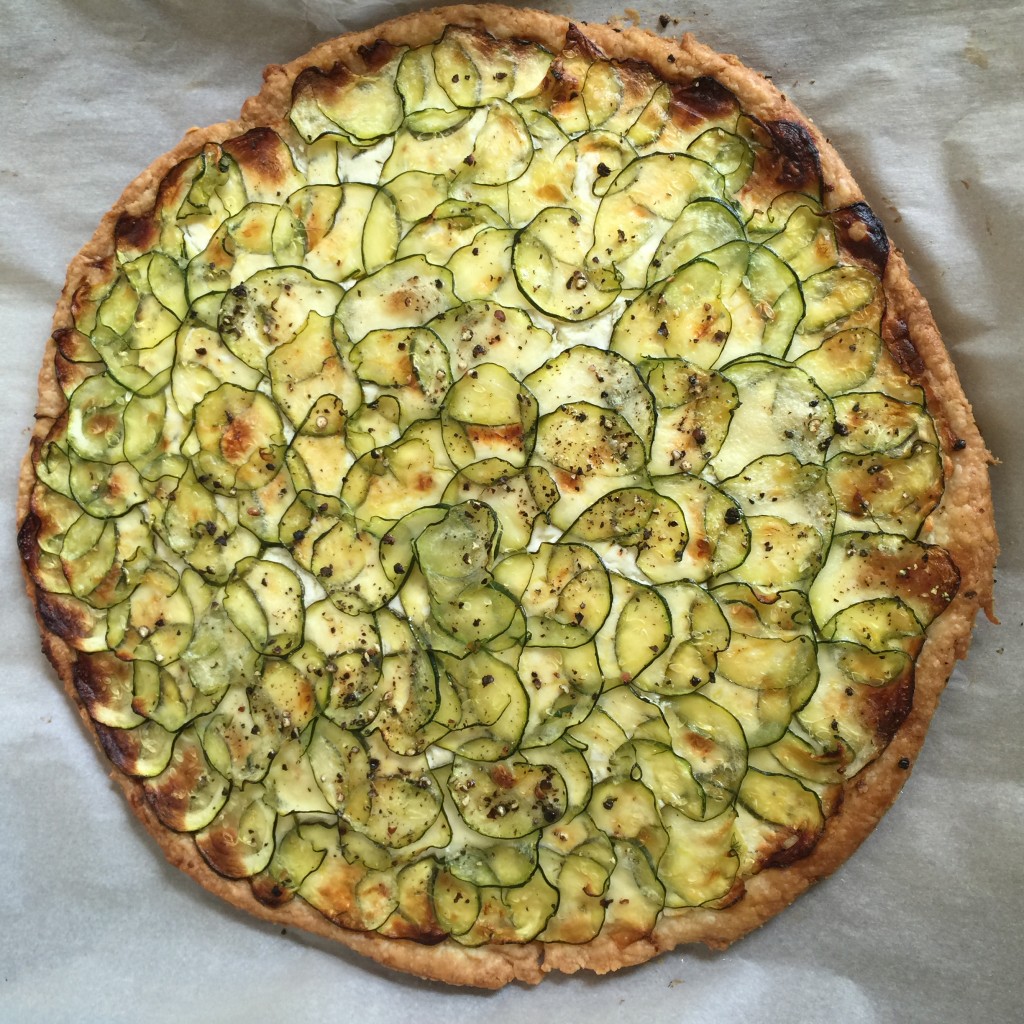 The shrimp orzo salad was better for having sat overnight so the flavors could meld.  I doubled the recipe and had plenty of leftovers so I think one batch could easily suffice for a buffet for twelve.  I also made two zucchini tarts which was the right amount for a dozen guests.  The tarts were beautiful and easy to put together but did take a bit of time.  The recipe says the tart can be assembled four hours ahead and then baked for the party.  That's true but it did take a good hour or so to assemble the two tarts which added some stress to my party prep given that the party started at 11:00 a.m. Note, too, that when Garten says to overlap the zucchini you really need to overlap because the zucchini rounds will shrink significantly when you bake them (see the goat cheese peeking through on the baked tart above.) Despite a bit of fussiness,  they were a focal point for the spread and delicious warm or at room temperature.
Dessert was a lemon angel food cake from Joyce Goldstein's  "From Our House to Yours: Comfort Food to Give and Share" accompanied by fresh berries and Garten's recipe for Make-Ahead Whipped Cream (see below.)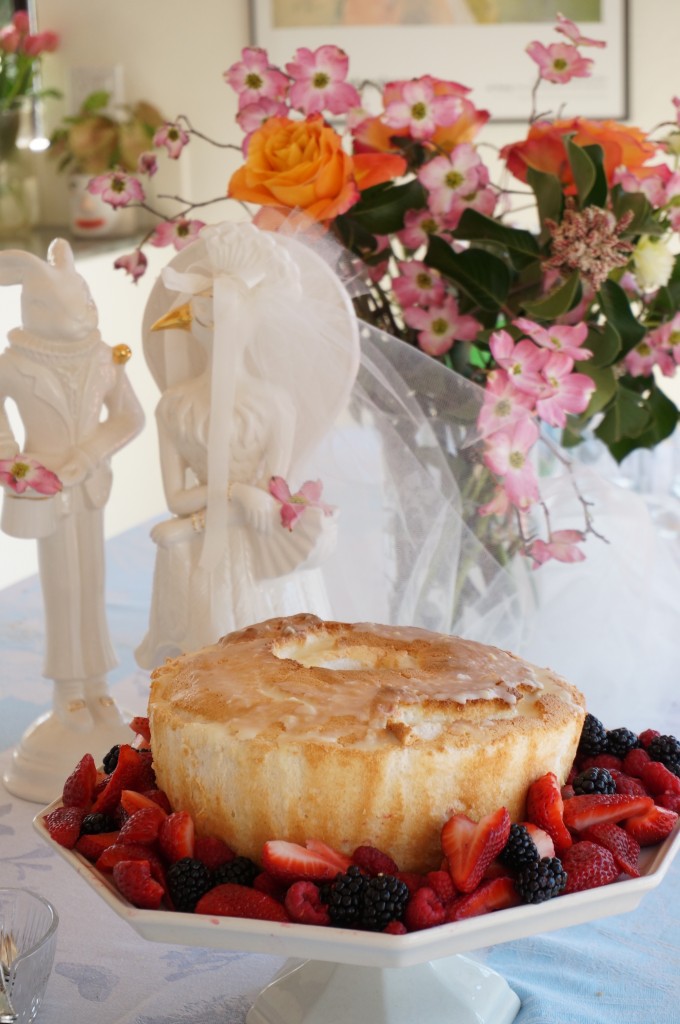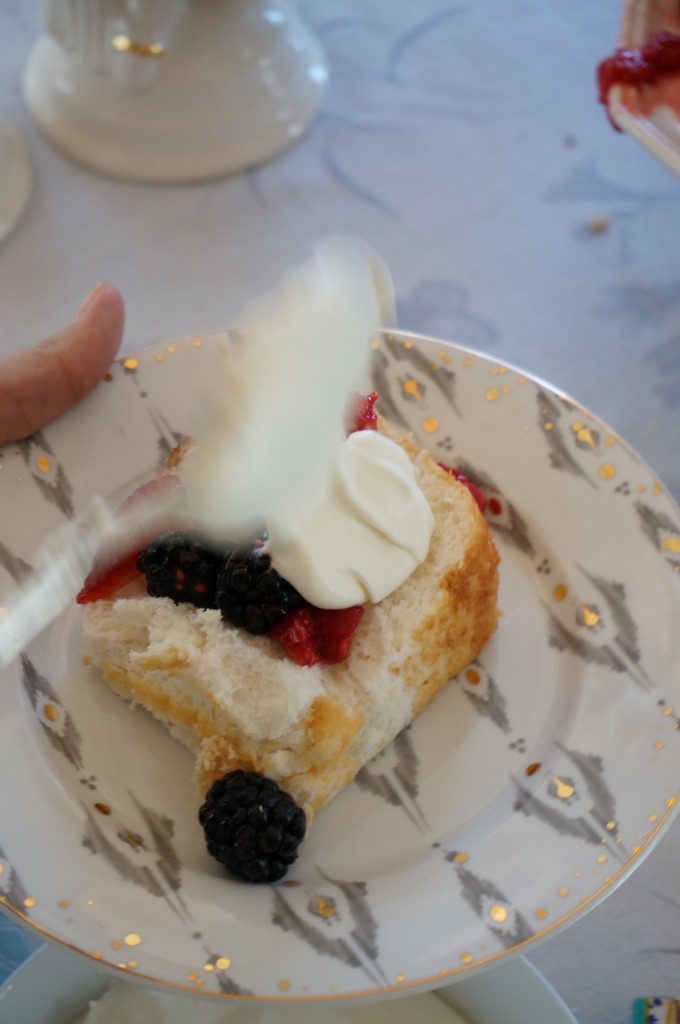 The cake is easy to make and can look fancy without you needing to wield a pastry bag.  It does require lemon oil though which is different than lemon extract.  You can buy lemon oil at specialty food shops or it can also be ordered from Sur La Table.
Following Garten's recommendations for Making a Schedule in advance (see Barefoot Contessa "Family Style"),  I laid out the week working backwards from the moment guests arrived at my door in order to spread out the prep and enjoy the actual party.  The work was manageable because I didn't try to shop, cook and serve the food all in one day.  As Garten says "When I have guests coming in five minutes, I don't want to be cleaning the kitchen or getting some stray molasses out of my hair."  Because after all, Summer is not only a-comin in, but when it's Summertime, the livin' should be Easy.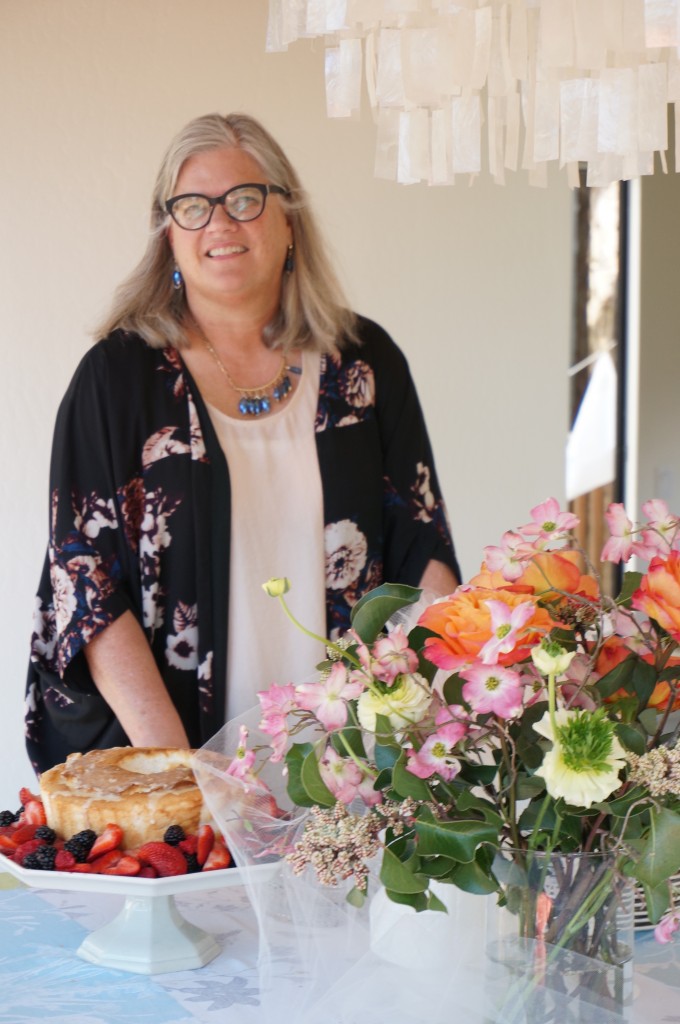 Zucchini & Goat Cheese Tart 
(from Ina Garten's "Make It Ahead" )
1 1/4 cups all-purpose flour
Kosher salt and freshly ground black pepper
10 tablespoons (1 1/4 sticks) cold unsalted butter, 1/2-inch-diced
1/2 teaspoon white wine vinegar
5 tablespoons ice water
1 1/2 pounds zucchini, unpeeled and sliced 1/8 inch thick
2 tablespoons good olive oil, divided
8 ounces plain creamy goat cheese, at room temperature
1 teaspoon minced fresh thyme leaves
1/4 teaspoon grated lemon zest
Place the flour, 3/4 teaspoon of salt, and the butter in the bowl of a food processor fitted with the steel blade and pulse 12 to 14 times, until the butter is the size of peas.  With the processor running, pour the vinegar and ice water through the feed tube and continue to process and pulse until the dough just comes together.  Dump out on a floured board, form into a disk, wrap in plastic and chill for 30 minutes.
Meanwhile, place the zucchini in a colander set over a plate.  Toss it with 2 teaspoons of salt and set aside for 30 minutes.  Spread the zucchini out on a clean dish towel, roll it up and squeeze gently to remove some of the liquid. Put the zucchini slices into a bowl and toss with 1 tablespoon of olive oil. With a fork, mash together the goat cheese, thyme, lemon zest, 1/2 teaspoon salt, and l/4 teaspoon pepper and set aside.
Preheat the oven to 400 degrees.  roll the dough out on a floured board to an 11-inch circle and place on a sheet pan lined with parchment paper.  Spread the dough with the goat cheese mixture, leaving a 1/2 inch border.  Lay the zucchini slices in tightly overlapping circles, starting at the very edge of the pastry (the zucchini will shrink when it bakes).  Continue overlapping circles of zucchini until the whole tart is covered.  Drizzle with the remaining tablespoon of olive oil and sprinkle with pepper.  bake for 40 to 50 minutes, until the dough is golden brown.  Cut in wedges and serve hot, war, or at room temperature.
Mile High Lemon Angel Food Cake with Lemon Glaze
(from Joyce Goldstein's "From Our House to Yours: Comfort Food to Give and Share")
1 cup cake flour (not self-rising) sifted
¾ cup confectioners' sugar
14 egg whites, at room temperature
1 ½ teaspoons cream of tartar
¼ teaspoon salt
¾ cup granulated sugar
2 teaspoons pure vanilla extract
1 teaspoon pure lemon oil (Williams Sonoma carries this if you can't find elsewhere)
1. Preheat the oven to 375 degrees. Place an oven rack in the center of the oven.  Have ready an ungreased 10-inch tube pan.
2. Sift the flour and the confectioners' sugar together into a medium bowl.
3. Beat the egg whites with an electric mixer on medium speed in a large bowl until foamy.  Increase the speed to medium-high, add the cream of tartar and salt, and beat just until the egg whites form soft peaks.  Add the granulated sugar, about 1 tablespoon at a time, beating well after each addition, and beat just until the whites form stiff, glossy peaks.  Add the vanilla and lemon oil and beat until well combined.
4. Sift one-fourth of the flour mixture over the egg whites and fold in with a whisk or a rubber spatula.  Continue gently folding, one quarter at a time, until all the flour mixture has been added, being careful not to over mix.
5. Transfer the batter to the pan. Run a table knife through the batter to remove any large air pockets, and smooth the top with a rubber spatula.  Bake for 35 to 40 minutes, until the top is golden brown and the cake pulls away from the side of the pan.  Turn the pan upside down, and balance it on its elongated neck or pan legs or hang  the tube upside down from the neck of a tall bottle.  Let cool to room temperature.
6. Turn the pan right side up. Run a knife around the outside edge of the cake and between the cake and the tube. Release the cake.
Lemon Glaze
1 cup confectioners' sugar
2 tablespoons fresh lemon juice
1 ½ teaspoons grated lemon zest
Pinch of salt
Stir ingredients together in a small bowl.  Let stand for 10 minutes before using. Pour it over the cake and let stand for at least 10 minutes or until the glaze is set.
Make-Ahead Whipped Cream 
(from Ina Garten's "Make It Ahead")
1 1/2 cups cold heavy cream
1/4 cup confectioner's sugar
2 tablespoons granulated sugar
2 tablespoons creme fraiche
1 teaspoon pure vanilla extract
Place the cream, confectioners' sugar, granulated sugar, creme fraiche and vanilla in the bowl of an electric mixer fitted with the whisk attachment .  Beat on high speed, until it forms soft peaks.  Serve cold.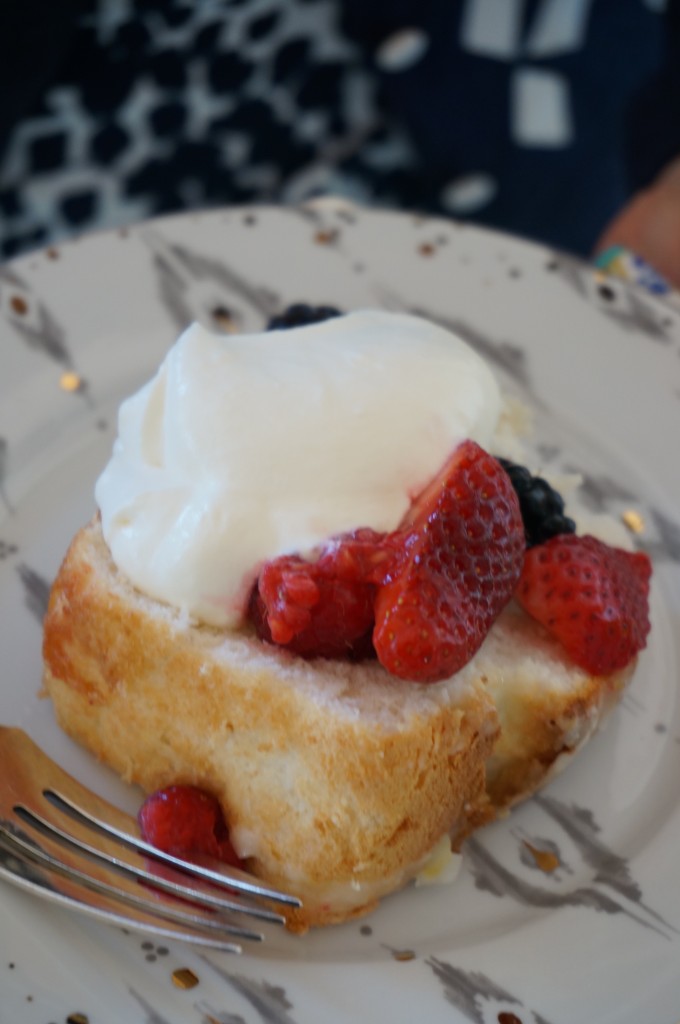 Thanks to party guest and photographer Jean Jarvis  for snapping these shots of the bridal shower.