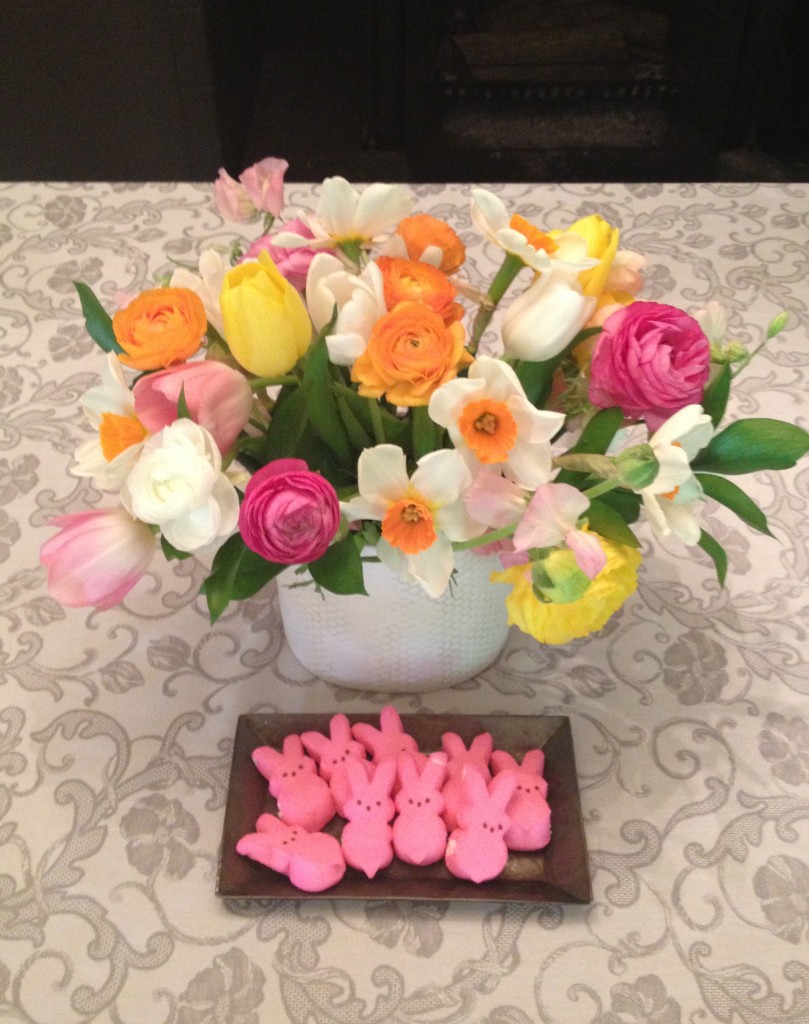 True confession: I like Peeps.  Yes, those Day-Glo sugar-coated marshmallow chicks are a taste treat I actually look forward to every Easter.  To enhance the texture, I open the package a few days early to let them get a little crunchy on the outside and set them out as part of my holiday display.  Look at how they complimented this year's Easter table bouquet.
Another thing that graced my Easter table was a citrus and avocado salad by my favorite vegetarian cookbook author Deborah Madison.  The salad was an interesting mix of sweet and savory due to the shallot-laced dressing and peppery watercress greens.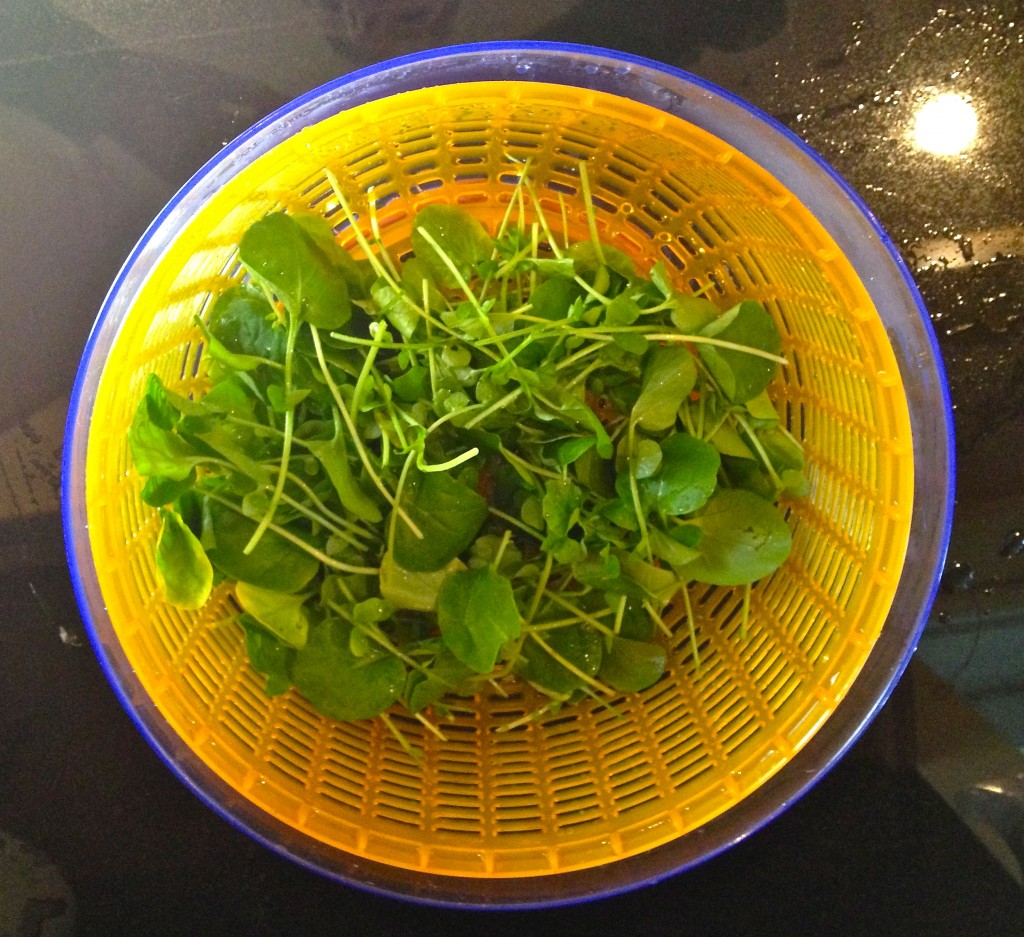 Washing and trimming the watercress reminded me of the time my Grandma Kate ran into our house when I was a kid exultant that she'd found some wild watercress on a nearby riverbank.  I would have preferred a batch of her famous cinnamon rolls, but obviously, she thought this handful of spicy greens was the best thing going.
My husband remembers his Grandpa Mel telling him that Mel's father loved the taste of the first dandelion greens of the season even though they tasted awful to Mel. Mel's theory was that when his father was a boy (in the 1870s) he got nothing green to eat all winter so by spring even dandelion greens tasted great.  This, of course, seems remarkable to me living in modern-day California.  I can eat pretty much any green any time of the year.  And yet, there are some things that just taste like spring and are best imbibed this time of year.
Including:
Asparagus
Carrots
Green Garlic
Lettuce (really, it's better now than at any other time in the year)
Rhubarb
Turnips
Oh, and Peeps.  They're meant to be eaten this time of year.  Ignore the jack o' lantern and snowman-shaped imposters.
Citrus and Avocado Salad
(From Vegetarian Cooking for Everyone by Deborah Madison)
1 lime
2 tangerines
2 navel or blood oranges
2 ruby grapefruit
2 ripe but firm avocados, preferably Hass
1 shallot, finely diced, or 2 scallions, including an inch of the greens, thinly lsiced
1 tablespoon fresh lemon juice
Salt and freshly milled white pepper
1 tablespoon avocado or olive oil
1 tablespoon chopped mint
1 bunch watercress, large stems removed, or the inner leaves of 1 head Boston lettuce
Grate the zest of the lime and one of the tangerines.  Peel and section the fruit letting the pieces fall into a bowl.  Reserve 1 tablespoon of the juice and drink the rest.
Slice the avocados into the citrus.  Combine the shallot with the citrus zest, reserved juice, lemon juice, and 1/8 teaspoon salt; whisk in the oil. Pour the dressing over the fruit, add the mint and a little pepper, and toss gently.  Garnish with the watercress or tuck the salad among the lettuce leaves.