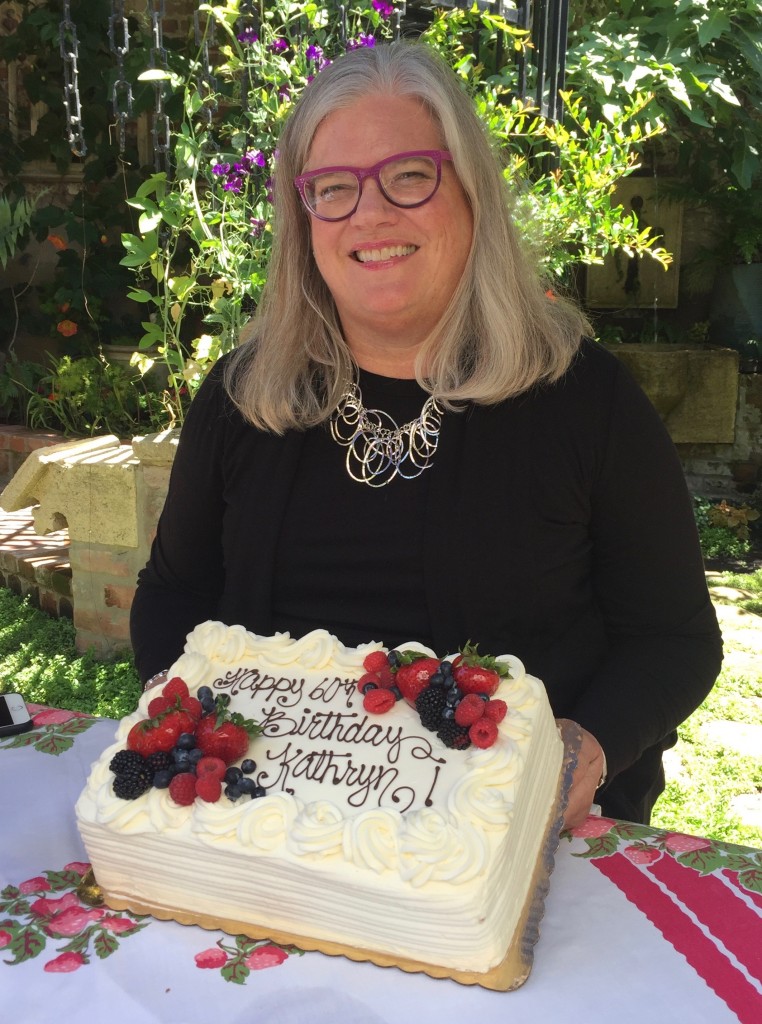 I turned sixty this summer.  Let's pause for a minute and recognize the enormity of that statement.  As a workout buddy said, at fifty you can pretend that your life is only half over.  At sixty you're not fooling anyone.
Other older friends tell me to "jump on in, the water's fine." Having known them for years I love that they're more curious and engaged with the world than they've ever been. More secure. Less distracted by others' expectations. They continue to create and connect in ways that I admire and aspire to.
We're all a little bit broken which paradoxically makes us a lot more whole. We share recommendations for fix-it folk: doctors, dentists, acupuncturists, nutritionists.  We commiserate over the things that don't have a quick fix—mostly our kids and the world they're inheriting. Now that some loved ones are gone, we comfort each other about the things beyond repair.
The older we get, the more we celebrate each passing year.  Not with the perfect dinner party or the splashiest bash, but with spontaneous lunches and casual suppers built around take-out menus.
For my sixtieth, I was lucky enough to have several of these intimate events including a small gathering of girlfriends at my friend Pauline's incredible backyard built behind a warehouse over train tracks in West Oakland. In lieu of gifts I asked  the guests—whose ages happily spanned six decades—to each bring a single flower to make a bouquet that I'd take home to remind me of my good fortune in having such colorful, entertaining friends.  In return I passed out temporary floral tattoos to signify that I'm sixty and anything goes! (Gabby Blair was one of the guests and did a nice write-up here.)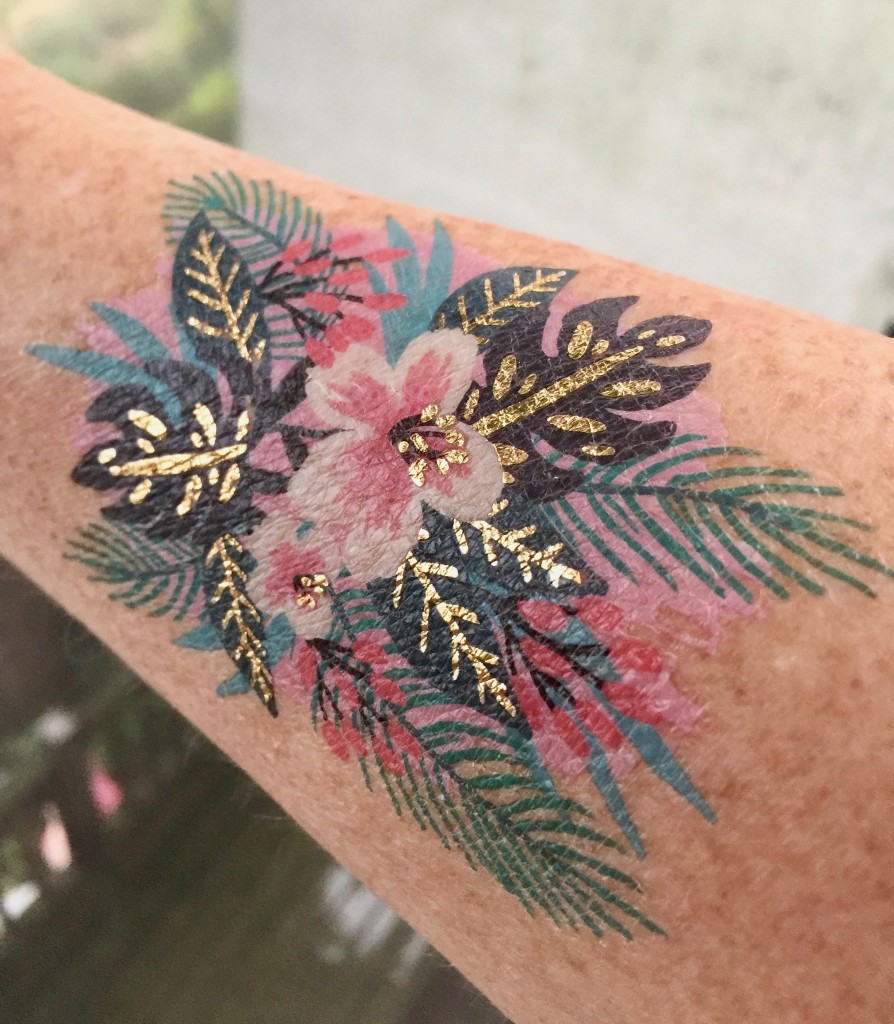 That night, I enjoyed a beautiful dinner with MJ at Chez Panisse. We first moved to the Bay Area thirty-eight years ago and attended church right around the corner.  My birthday dinner was a pilgrimage not only to the birthplace of California cuisine, but to our own California roots. Opting for something other than the pre-fix offering, I chose an eggplant fritter over a lamb chop having never acquired a taste for lamb since my dad was a cattle rancher.
We would travel home to Idaho for the 4th of July and had plans for a farther-flung birthday trip later on this year, but I also wanted to spend some time on my own around my birthday to ponder how far I'd come.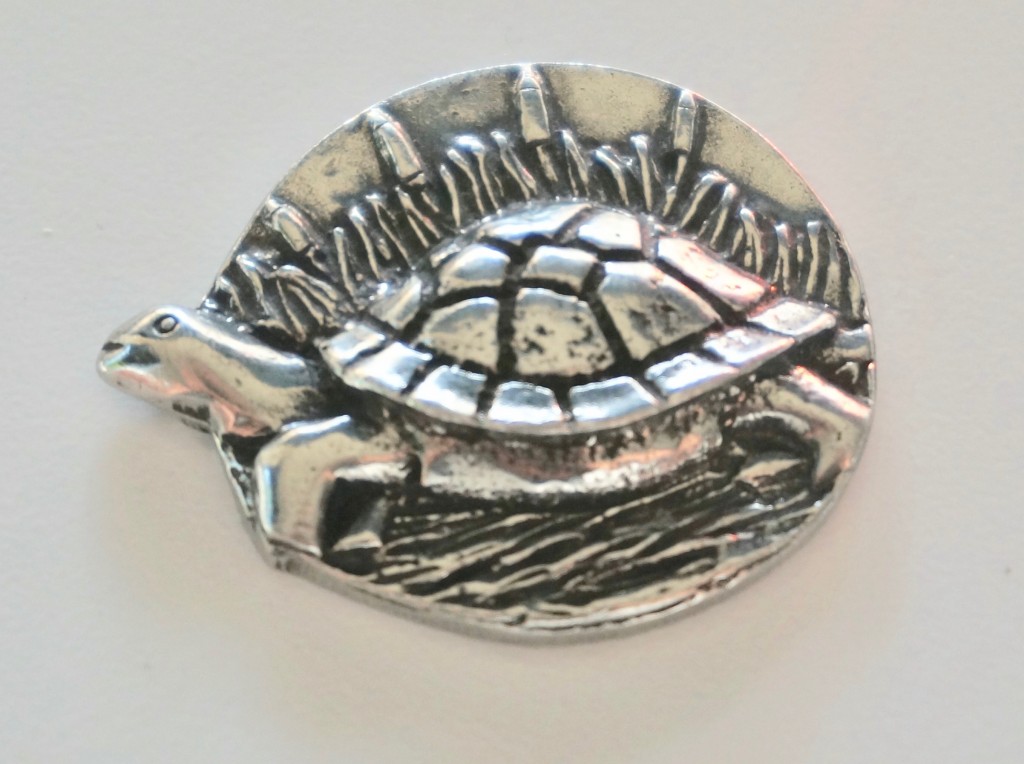 So, the weekend after I turned sixty, I drove south to Mt. Madonna, a mountaintop retreat center built on ground sacred to the native American Ohlone indians next to a forest where Italian stone masons saw an apparition of the Madonna. I went for a yoga retreat—my first—and soon discovered there was very little time for solitary assessment. What with sage smudging, sound bathing, essential oils tutelage, an astrological natal chart reading, chakra-clearing yoga,  a summer solstice ritual, worship services at the on-sight Hindu temple and heavy doses of Aleve to keep up with the younger yogis, I was practically levitating by the time the weekend was over.  My ayurvedic massage therapist anointed me with so much sunflower oil spiked with sandalwood, lavender and frankincense that it was a miracle I didn't spontaneously ignite in the 100-degree weather.
Regarding the natal chart reading. . .for weeks I'd been searching for my birth hour in order to find out where the stars were at the time of my birth—a requirement to have my astrological natal chart read. Given that my official birth certificate didn't list it, the hospital I was born in doesn't exist anymore and my mom's recollection was somewhat vague (I'm the oldest of nine children, after all), I was pretty much out of luck.  But then I made one last phone call to the nursing home that had bought the old hospital building and discovered that they were in possession of the records.  Blessings on the staff member who took the time to set up a microfiche machine, hunt down the info about my birth and then called me On My Birthday with my birth time (3:50 p.m.) so that I could become acquainted with my celestial birth map. Gemini Sun/Libra Moon/Scorpio Ascending—that's me!
The night I arrived at Mt. Madonna, a large turtle emerged from the pond across from my spartan dorm room. I swear he or she was calling to me, though do turtles make noises? I confess to knowing almost nothing about turtles. Still, one of my earliest memories is of a big turtle crawling into my Idaho backyard. It must have been in the summer—perhaps near my birthday—because there was no snow on the ground. Dad said it probably came up from the Snake River about a mile away. I wonder whatever happened to that star-crossed turtle. I don't remember now if our little black dog was there then but I suspect if he was he wouldn't have left that alien creature alone as it crawled slowly—silently?—through the stubby lawn. (I bear a faint scar on my palm  from when "Blackie" bit me on what I now know is a very long life line.)
I descended from the mountain well-moisturized and well-versed in practices that have lingered since my Age of Aquarius childhood. I also came back with sore knees and a little turtle trinket from the retreat center bookstore. Inscribed on the back is an admonition for patience–good advice as my flexibility wanes and my goals now take on a certain urgency. I've since read that in many cultures, turtles are seen as an emblem of longevity and stability due to their long lifespan, slow movement, sturdiness and wrinkled appearance. At sixty, I'm grateful to have these–and so many other lovely things–in abundance.